S/Notify Email Encryption for Confluence
for Confluence Server 6.13.0 - 7.12.4, Confluence Data Center 6.13.0 - 7.12.4
and more
Overview
Reviews
Pricing
Support
Versions
Installation
Secure your confidential documentation with S/MIME or PGP encryption for all Confluence email notifications
Use your preferred encryption type
It's at your choice which encryption you prefer - S/MIME or PGP. You can even use both encryption types at the same time. If needed, it's also possible to manage encryption separately for each space.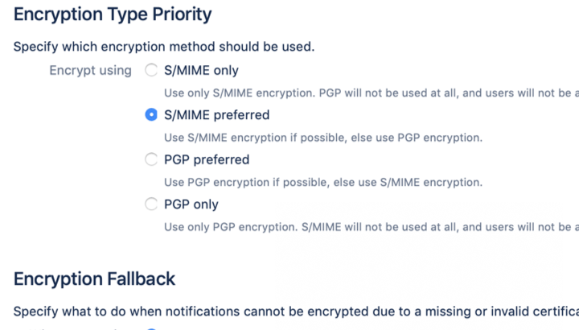 Take advantage of the central key management
S/MIME certificates and PGP keys can be centrally managed for all users, with support of LDAP servers, HKP key servers and custom key stores. These can even be combined with user managed certificates and keys.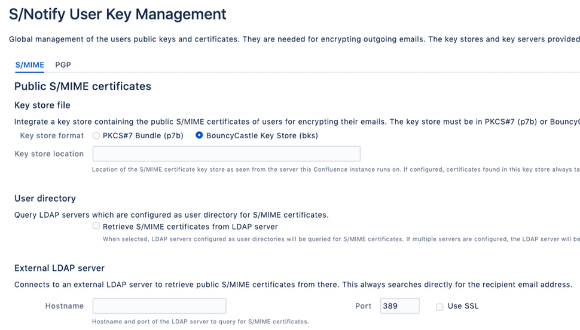 Allow users to manage their certificates or keys
Optionally, in addition to the central key management, you can allow users to upload their S/MIME certificates or PGP keys, giving you the greatest flexibility possible.
More details
Have you ever felt uneasy about the fact that Confluence sents out plain text notification emails with excerpts of confidential information about your project or company?
Finally, here's an easy way to protect your valuable assets. This app secures your Confluence communication by automatically encrypting all notification emails sent out to the users. It uses S/MIME or PGP encrypted email at your choice – or even both.
Did you know?
Encrypted emails do not only protect you from unwanted disclosure while in-transit. Providing real end-to-end encryption, it also makes sure that the message content can only be read by authorized persons or apps while stored on the mail server or on the client computer or any other place like backup devices.
Privacy and security
Privacy policy
Atlassian's privacy policy is not applicable to the use of this app. Please refer to the privacy policy provided by this app's vendor.
Vendor privacy policy
Security
This app is not part of the Marketplace Bug Bounty program. Learn more
Gallery
PGP keys required to encrypt emails can be retrieved automatically from an HKP or LDAP based PGP key server or server pool