Planyway: Resource Planning, Project Roadmap, Time Tracking
for Jira Cloud, Jira Data Center 8.13.0 - 8.19.1
and more
Overview
Reviews
Pricing
Support
Versions
Installation
Gantt-like timeline to display your team workload and project portfolio in many ways
Resource Planning
Schedule and assign tasks to team members according to their availability. Optimize workload and track who is doing what and when across projects.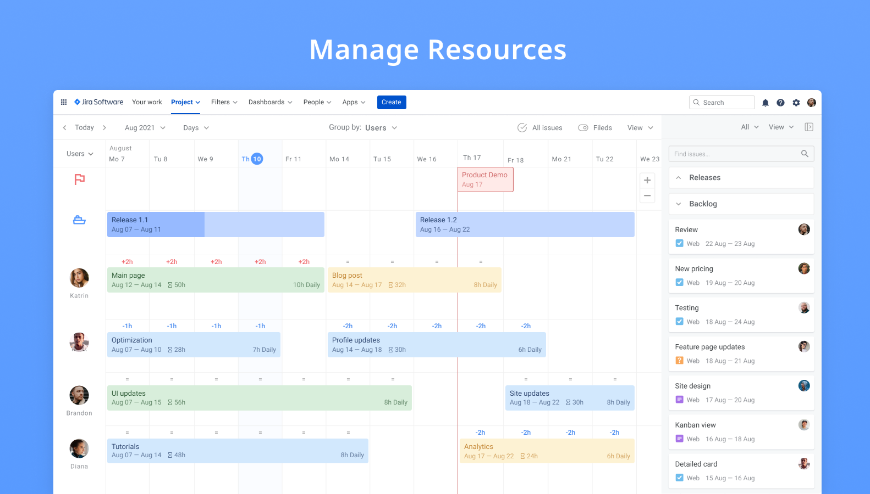 Project Portfolio Management
Build a visual roadmap to get an overview of how all your projects are progressing. Manage releases and highlight key dates with milestones to check whether your work is on schedule.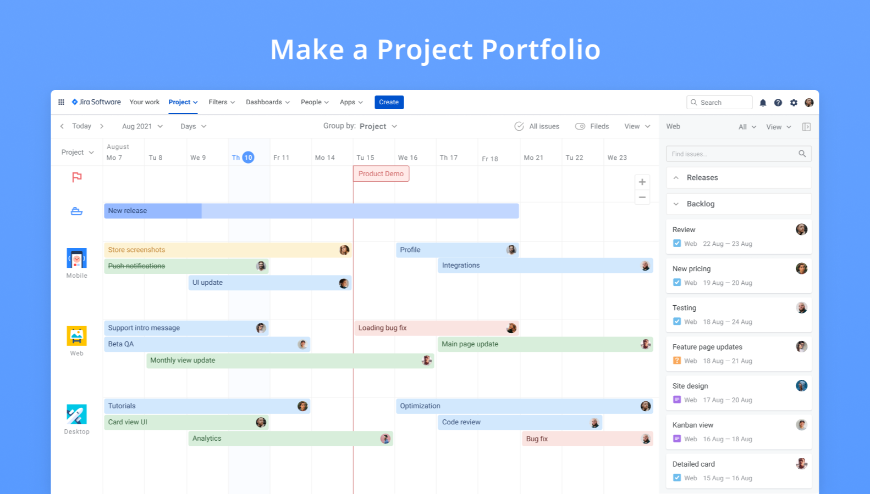 Time Tracking
Gain insights into how much time you and your team really spend and make work hours more productive.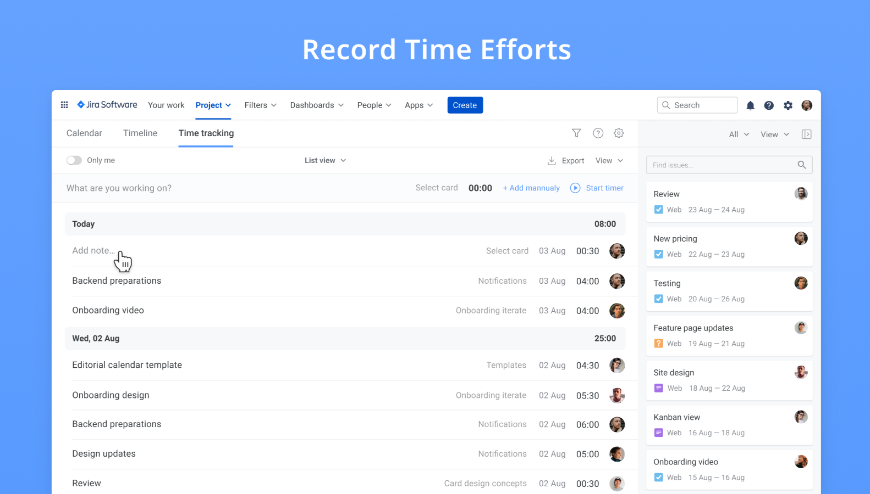 More details
Planyway is a tool for project and resource planning in Jira that helps you build roadmaps, manage team workload, and track deadlines to do work on time. You can use Planyway for:
RESOURCE PLANNING: Visually plan team workload, see who is over- or underloaded to allocate resources effectively
PORTFOLIO MANAGEMENT: Get an overview of multiple projects on one page to track progress
TIME TRACKING: Record time efforts to charge clients and control productivity
PROJECT ROADMAP: Visualize projects on a timeline to map out goals, prioritize issues, and know where things stand at any time
TEAM CALENDAR: Map out upcoming deadlines on the calendar not to miss what's important
Key features:
Get a timeline or calendar representation of Jira issues
Drag and drop issues to assign dates and members
Track time you and your team spend
Visualize releases and milestones to keep focused on goals
Connect multiple projects to organize a project portfolio
Need help? Contact us
Privacy and security
Privacy policy
Atlassian's privacy policy is not applicable to the use of this app. Please refer to the privacy policy provided by this app's vendor.
Vendor privacy policy
Security
This app is not part of the Marketplace Bug Bounty program. Learn more
This partner has completed the Security Self-Assessment Program. Learn more
Integration Details
Planyway: Resource Planning, Project Roadmap, Time Tracking integrates with your Atlassian product. This remote service can:
Act on a user's behalf, even when the user is offline
Administer the host application
Administer Jira projects
Delete data from the host application
Gallery
Plan your work by mapping out upcoming issues and visualizing them on one calendar. Share it with your teammates, so everyone can see where things stand at any moment to ensure that everything will be done on time.