WC extension for Google and ScreenCast
for Confluence Server 6.2.0 - 7.7.4
and more
Overview
Reviews
Pricing
Support
Versions
Installation
Use this widget connector to embed Google Video, Google Drive screenshots and ScreenCast videos to a Confluence Page
Embed Videos stored on Google Drive into your page
Embed Videos stored on Google Drive into your page. Google Drive provides some of the greatest and most inexpensive storage options available today. Additionally Google Drive allows for the storage of very large files.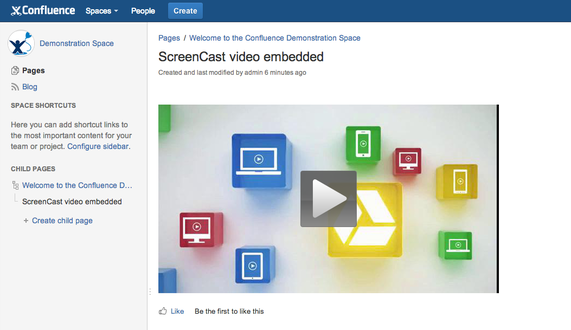 Display videos on ScreenCast.com into your page
ScreenCast.com is an amazing service integrated with Jing and Camtasia which streams high quality screen recordings with no quality degredation.
Widget Connector's macro interface
With the simple interface of Atlassian's built in widget connector this AddOn lets you additionally embed videos from Google Drive, ScreenCast and Vine.
More details
Making short videos with Jing, Camtasia, Screenflow, and others is often by far the most efficient way to communicate an idea, concept, issues, walk through, etc. Unlike posting a video to YouTube you can keep your video quality high using this AddOn and the right tools. Video tools like Camtasia and Jing make sharing such videos trivial whether they are 30 seconds or 30 minutes. However to share these videos/screencasts often requires the ability to embed a video from ScreenCast.com or Google Drive. This AddOn makes that both possible and easy. Just drop the URL from your video into the "Widget Connector" macro and with this AddOn installed your videos will automatically be embedded in your Confluence pages. Just for fun also supports Vine!
Appfire helps great makers build what's next. Our growing portfolio of apps empowers teams worldwide with workflow automation, business intelligence, and administration at scale.
Privacy and security
Privacy policy
Atlassian's privacy policy is not applicable to the use of this app. Please refer to the privacy policy provided by this app's vendor.
Vendor privacy policy
Security
This app is not part of the Marketplace Bug Bounty program. Learn more
Gallery

Platinum Marketplace Partner