Navitabs - Tabs for Confluence
for Confluence Cloud, Confluence Server 6.13.0 - 7.12.4, Confluence Data Center 6.13.0 - 7.12.4
and more
CLOUD FORTIFIED
Supported

Cloud Migration Assistance
Overview
Reviews
Pricing
Support
Versions
Installation
Work with tabs on Confluence pages. Display content from other pages as tabs or create tabs to structure your content
Macros Childtabs and Labeltabs for easy navigation
Display child pages or pages with a specific label as tabs on an overview page.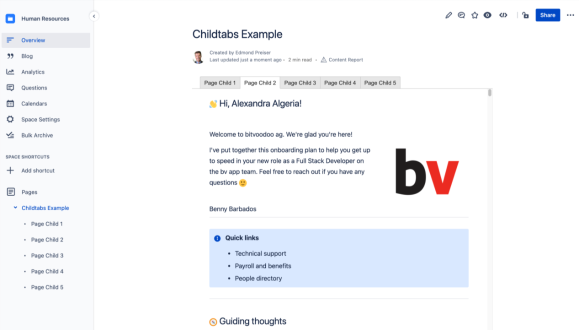 Macros Tab-Group & Tab for individual tabs
Use tabs to structure your page's content. Choose whether to display the tab navigation horizontally or vertically.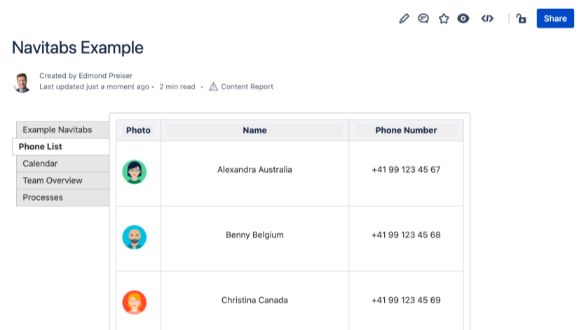 Macro Tabs (Beta) to speed you up
Try our brand-new tabs editor (Beta) and create all your tabs in one single interface. Please let us know your impression so that we can improve.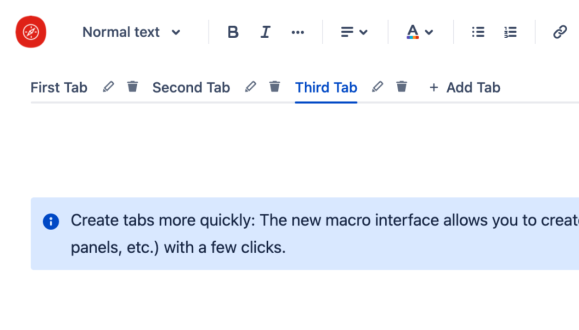 More details
The app Navitabs allows users to:
Display content from other pages on one central page or
Structure long content into tabs to prevent too much scrolling
It does this by providing a selection of powerful macros:
Childtabs: Define the parent page. The macro will automatically generate tabs displaying the children's content.
Labeltabs: Define a specific label. The macro will automatically generate tabs with all the pages carrying that label and display their content in them.
Tab Group & Tab: For advanced users and more sophisticated content: Insert the Tab Group macro, then add as many Tab macros as you need to structure your content. Fill each Tab with the desired content and label the Tabs individually.
Tabs (Beta) - Create tabs more quickly: The new macro interface allows you to create, label, and fill tabs with standard content (text, images, status, panels, etc.) with a few clicks.This macro is in Beta. Your feedback is much appreciated.
Certification
CLOUD FORTIFIED
This app offers additional security, reliability, and support through:
Cloud security participation

Reliability checks

24hr support response time

and more.
View details
Privacy and security
Privacy policy
Atlassian's privacy policy is not applicable to the use of this app. Please refer to the privacy policy provided by this app's vendor.
Vendor privacy policy
Security
This app is part of the Marketplace Bug Bounty Program. Learn more
This partner has completed the Security Self-Assessment Program. Learn more
Integration Details
Navitabs - Tabs for Confluence integrates with your Atlassian product. This remote service can:
Act on a user's behalf, even when the user is offline
Write data to the host application
Read data from the host application
Gallery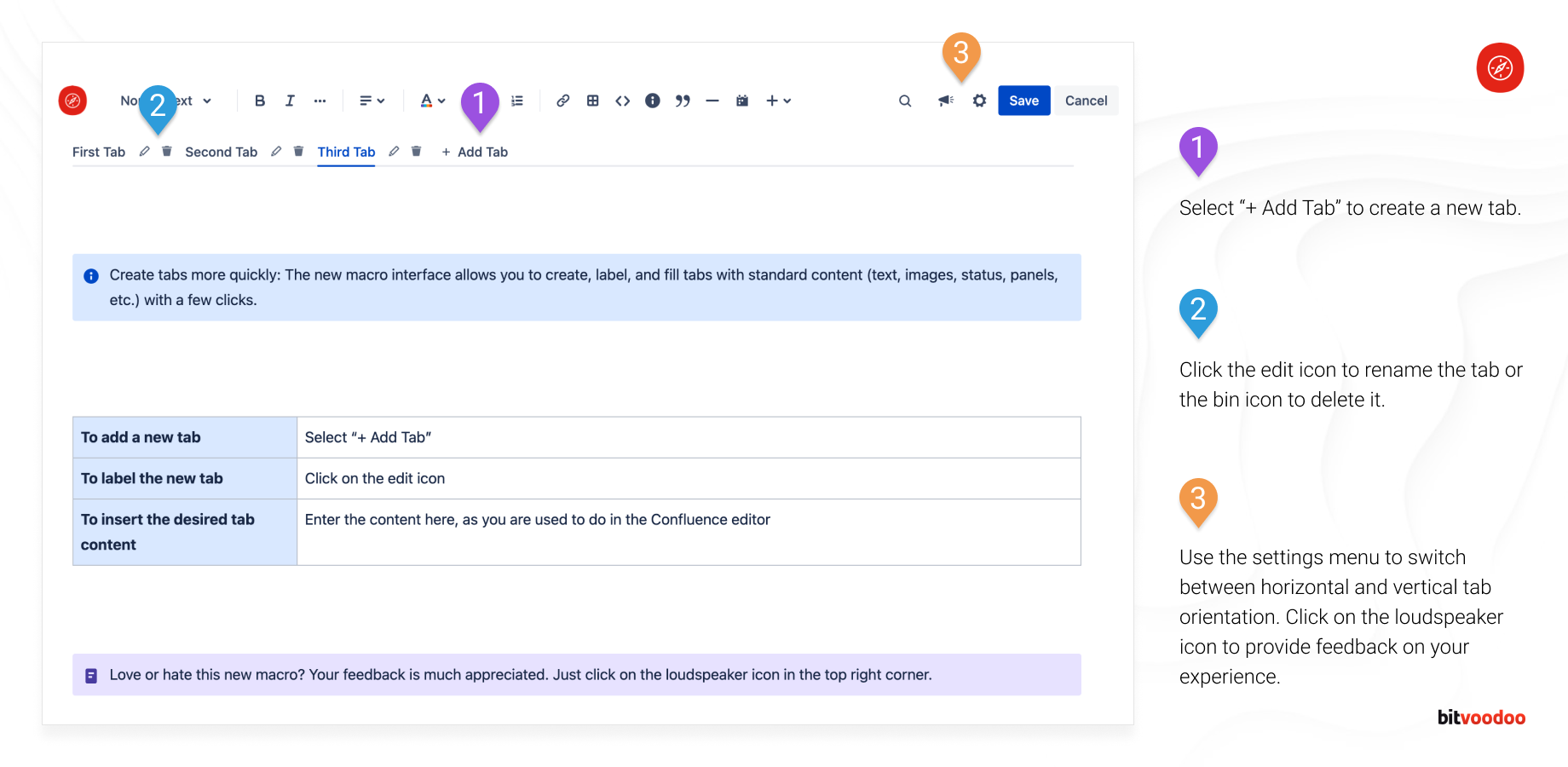 1) Select "+ Add Tab" to create a new tab. 2) Click the edit icon to rename the tab or the bin icon to delete it. 3) Use the settings menu to switch between horizontal and vertical tab orientation.