Content Formatting Macros for Confluence
for Confluence Cloud, Confluence Server 6.13.0 - 7.12.4, Confluence Data Center 6.13.0 - 7.12.4
and more
CLOUD FORTIFIED
Supported

Cloud Migration Assistance
Overview
Reviews
Pricing
Support
Versions
Installation
Create visually appealing and engaging content on Confluence with Content Formatting Macros
Customise and structure Confluence content
Manage the structure of Confluence pages with macros that separate content using Tabs for better navigation and improve the visual design of your pages with the Buttons Group and Tooltips macros.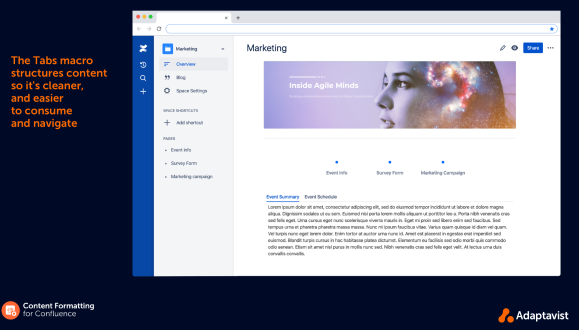 Visualisation for processes and user journeys
Using the Progress Bar macro you can create visualisation of progress and status for documented processes in Confluence so that your reader gets a complete picture and knows how far along they are.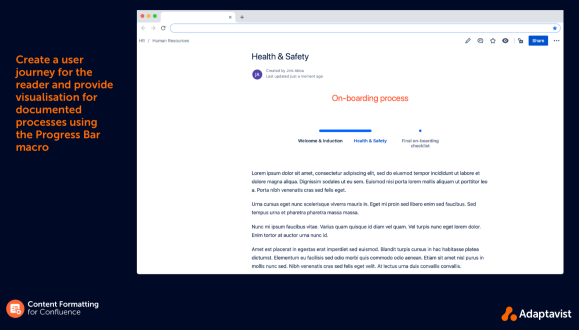 Visual macros for beautiful Confluence pages
Use the Card and Buttons macros to highlight important content and hyperlinks. The powerful range of customisations allows users to achieve well structured and beautiful Confluence pages for better engagement.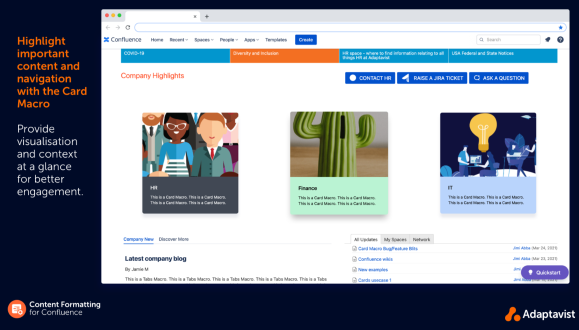 Certification
CLOUD FORTIFIED
This app offers additional security, reliability, and support through:
Cloud security participation

Reliability checks

24hr support response time

and more.
View details
Privacy and security
Privacy policy
Atlassian's privacy policy is not applicable to the use of this app. Please refer to the privacy policy provided by this app's vendor.
Vendor privacy policy
Security
This app is part of the Marketplace Bug Bounty Program. Learn more
This partner has completed the Security Self-Assessment Program. Learn more
Integration Details
Content Formatting Macros for Confluence integrates with your Atlassian product. This remote service can:
Delete data from the host application
Write data to the host application
Read data from the host application