MultiExcerpt
for Confluence Cloud, Confluence Server 6.13.0 - 7.13.1, Confluence Data Center 6.13.0 - 7.13.1
and more
Cloud Security Participant
Supported

Cloud Migration Assistance
Overview
Reviews
Pricing
Support
Versions
Installation
Include multiple excerpts across pages and spaces. Aggregate/reuse your content. Can migrate from server to cloud and back
Conceptual view
Combine content from different pages and spaces across Confluence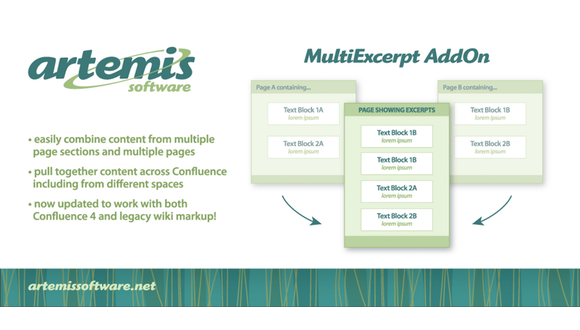 Preview your excerpts with the macro browser view.
You can define and preview the excerpts you're including right in the macro browser.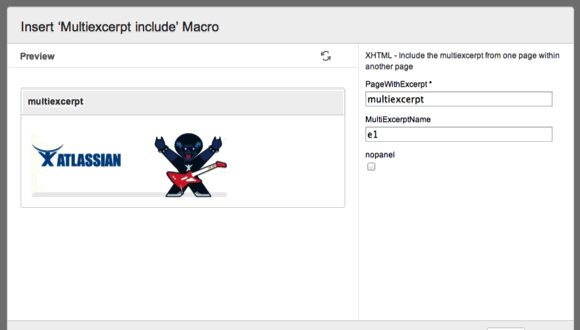 Define several excerpts in a single page
Define several excerpts in a single page and pull several of them back together on a separate page or pages in the same space or a different space.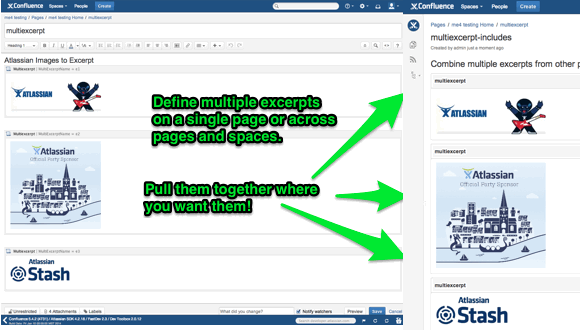 More details
The multi excerpt plugin has similar features to the Confluence excerpt macro, but additionally allows for including multiple named excerpts from a single page and can pull excerpts together from multiple spaces.
It now also caches multi-excerpt-includes for vastly enhanced performance when you have a lot to include!
'MultiExcerpt Enhanced Permissions' macro is only available for Server version.
Appfire helps great makers build what's next. Our growing portfolio of apps empowers teams worldwide with workflow automation, business intelligence, and administration at scale.
Privacy and security
Privacy policy
Atlassian's privacy policy is not applicable to the use of this app. Please refer to the privacy policy provided by this app's vendor.
Vendor privacy policy
Security
This app is part of the Marketplace Bug Bounty Program. Learn more
This partner has completed the Security Self-Assessment Program. Learn more
Integration Details
MultiExcerpt integrates with your Atlassian product. This remote service can:
Act on a user's behalf, even when the user is offline
Read data from the host application
Gallery

Platinum Marketplace Partner