Count of Administrative Elements over Time
for Jira Cloud
Overview
Reviews
Support
Versions
Installation
Get an overview of the amount and devlopment of the most important administrative Elements in your Jira Instance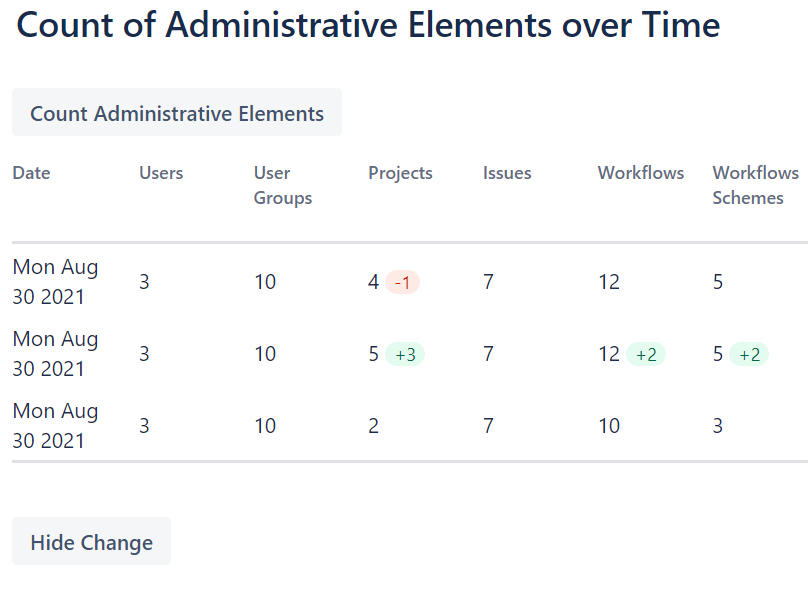 Your Jira Instances grows and so does the administrative overhead.
Keeping track of how your Administrative Area in Jira evolves is a tricky but necessary part to avoid running into a mess.
"Count of Administrative Elements over Time" gives you an easy option to get an overview of the amount of the most important administrative Elements in your Jira Instance and how the amount changes over time.
The app collects those counts and provides a simple table with timestamps and historical data you collected.
Additionally it also displays the difference from the last timestamp you saved.
The app counts
Users (only active users)
User Groups
Projects (only active projects)
Issues
Workflows (includes inactive workflows)
Workflows Schemes (includes inactive workflow schemes)
Statues
Custom Fields (only active custom fields)
Field Configuration
Field Configuration Scheme
Notificaiton Schemes
Issue Type Schemes
Permission Schemes
Screens
Screen Schemes
Issue Type Screen Schemes
Privacy and security
Privacy policy
Atlassian's privacy policy is not applicable to the use of this app. Please refer to the privacy policy provided by this app's vendor.
Vendor privacy policy
Security
This app is not part of the Marketplace Bug Bounty program. Learn more
This partner has not completed the Security Self-Assessment Program. Learn more
Integration Details
Count of Administrative Elements over Time integrates with your Atlassian product. This remote service can:
Take Jira administration actions (e.g. create projects and custom fields, view workflows, manage issue link types).
Create and edit project settings and create new project-level objects (e.g. versions and components).
View user information in Jira that the user has access to, including usernames, email addresses, and avatars.
Read Jira project and issue data, search for issues, and objects associated with issues like attachments and worklogs.
Gallery