Pull Request Checklist Buddy
for Bitbucket Data Center 7.0.0 - 7.14.1
and more
Overview
Reviews
Pricing
Support
Versions
Installation
Automated default tasks / checklists for pull requests ▪️ 20% limited early bird discount
Add tasks automatically to relevant pull requests
Automate reminders for manual tasks in your pull requests.Checklist Buddy ensures complete pull requests on creation. Track important manual tasks for successful releases. Prevent mistakes like committing local changes.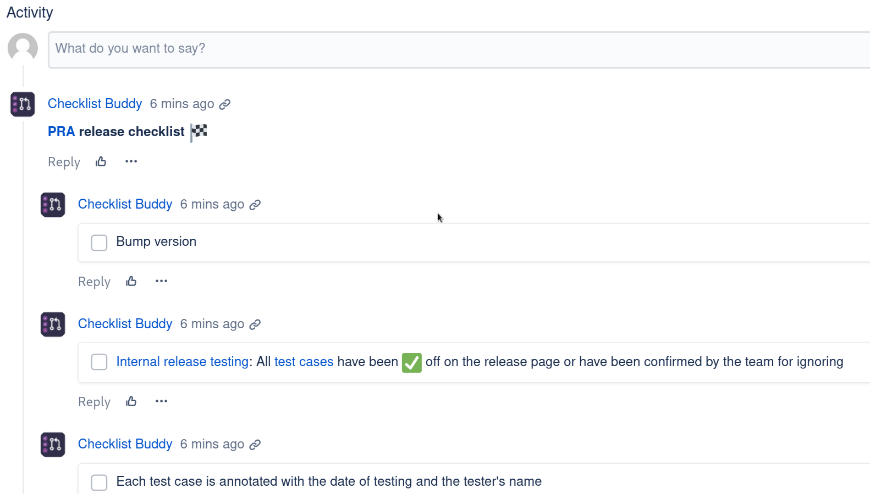 Simple rule based config in plain text
To create checklists or reminder comments to the correct pull requests, put a file called PRCHECKLIST in your repository. To have the wanted tasks added, you can filter by branch and file patterns, similar to .gitignore.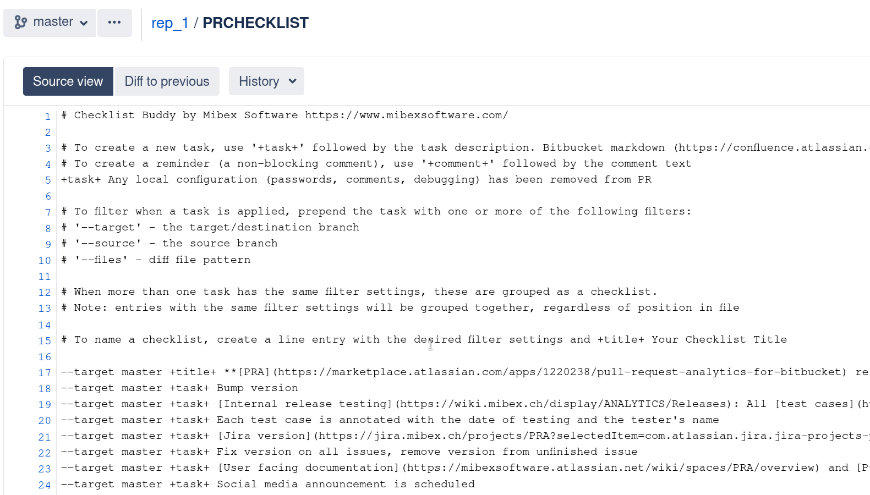 Prevent merges without all required tasks done
To enforce the tasks to be done before merging your pull requests, use the Merge Check: No incomplete tasks, built-in in Bitbucket.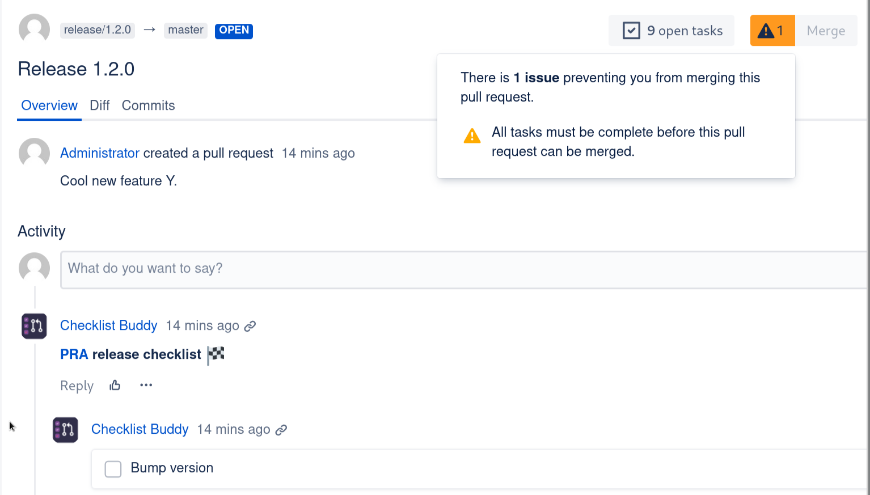 More details
Automate task checklists or default tasks for pull requests. Checklist Buddy adds the following for you on pull request creation:
whole Checklists with title
Configuration is simple, file-based, and low-maintenance:
PRCHECKLIST file (convention over configuration)
filtering options based on pattern matching on file names, similar to .gitignore
ready to be versioned, eg. for auditing
Contact us for the discount details at support@mibexsoftware.com
Privacy and security
Privacy policy
Atlassian's privacy policy is not applicable to the use of this app. Please refer to the privacy policy provided by this app's vendor.
Vendor privacy policy
Security
This app is not part of the Marketplace Bug Bounty program. Learn more