Jira Snapshots for Confluence
for Confluence Cloud, Confluence Data Center 7.7.3 - 7.12.4
and more
Overview
Reviews
Pricing
Support
Versions
Installation
Jira and Confluence integration on steroids. Time-stamped static Jira reports in Confluence, including multilevel reports
Compare between current and previous snapshot
With one-click, you can capture a fixed snapshot of Jira data,
and another one,
and another one.
DIFF view compares current snapshot with any of the historic ones
Multilevel snapshots: add dependent levels.
For example, maybe you want to snapshot a list of epics and their stories;
Take it up a notch with a snapshot of epics, their stories, and their subtasks.
Multilevel tables are a snap with Jira Snapshots for Confluence.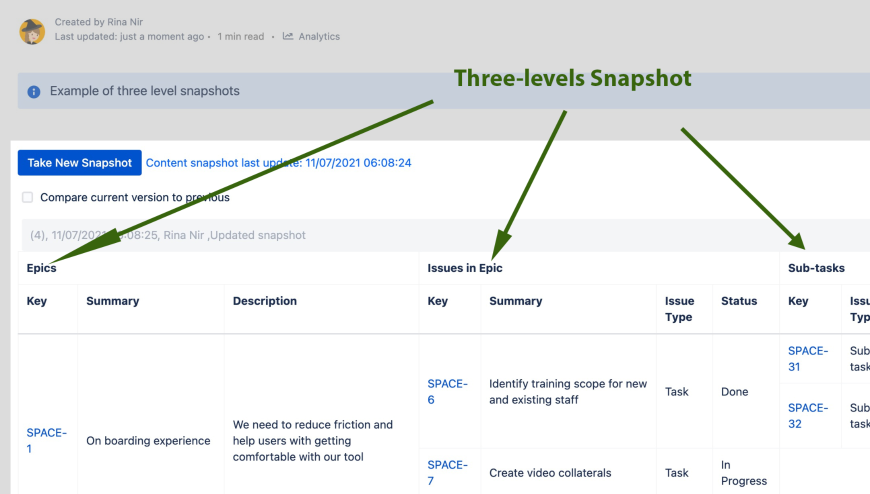 Adding the Jira Snapshots macro to any page.
Any JQL clause can be used to retrieve data.
Simply configure the macro with valid JQL, and select the list of fields to fetch.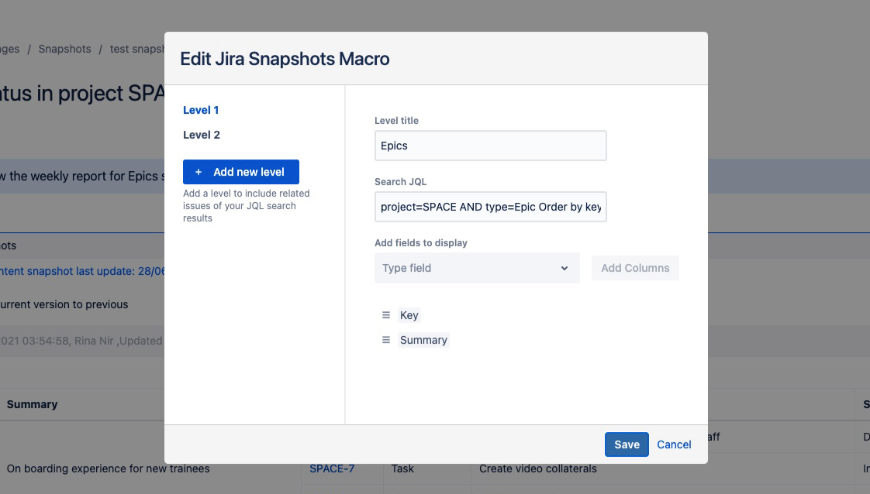 More details
See it in action in our RadBee Sandbox or Schedule a free demo.
Jira Snapshots empowers Confluence users with complete control over the Jira data on their page and a reliable mechanism to review older versions of the data. Standard Confluence Jira macros only show current data — there's no easy way to capture, view, or preserve historical data.
This next-level Confluence integration with Jira changes that by capturing data at a point in time. Confluence then shows the static Jira data until a new snapshot is taken.
Greater control = empowered management, faster approvals, and audit-ready documentation.
Get the picture?
Here's more:
Native data retrieval using Jira Query Language (JQL)
Two (and more) multilevel and traceability reports, for example: Epics and their stories, Requirements and their tests, Risks and their mitigations
Historic versions show the corresponding historic Jira data
Comparative version reports (DIFF view) give stakeholders a clear view of a project's evolution
Privacy and security
Privacy policy
Atlassian's privacy policy is not applicable to the use of this app. Please refer to the privacy policy provided by this app's vendor.
Vendor privacy policy
Security
This app is not part of the Marketplace Bug Bounty program. Learn more
This partner has completed the Security Self-Assessment Program. Learn more
Integration Details
Jira Snapshots for Confluence integrates with your Atlassian product. This remote service can:
Act on a user's behalf, even when the user is offline
Write data to the host application
Read data from the host application
Gallery
Each snapshot is stored and available to compare with current snapshot