Multiplier – Azure AD, Okta & Jumpcloud operations for Jira
for Jira Cloud
Cloud Security Participant
Supported

Jira Service Management

Jira Software
Overview
Reviews
Support
Versions
Installation
Automate group and app assignment in Okta, Azure AD & Jumpcloud directly from Jira
Assign apps and group memberships
Streamline your software request process by assigning apps directly from Jira.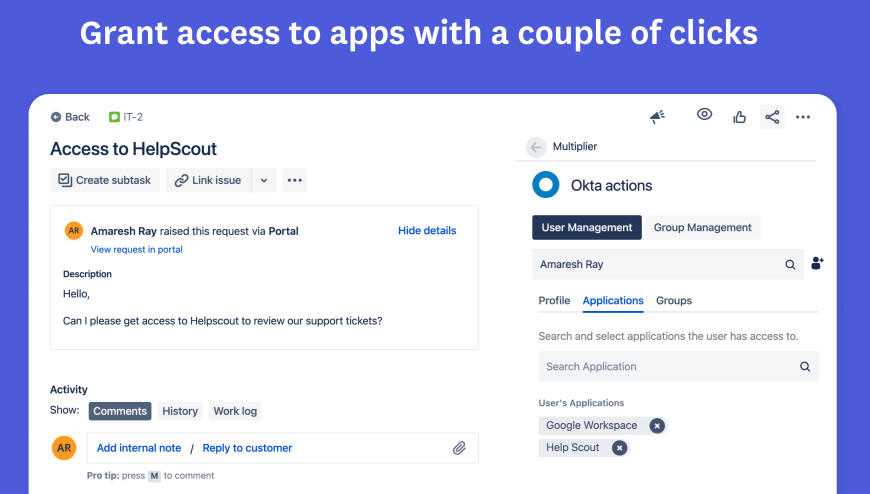 View and manage user attributes
View and and manage user attributes such as group memberships, department, manager and title.
You can also reset passwords, clear sessions, and much more!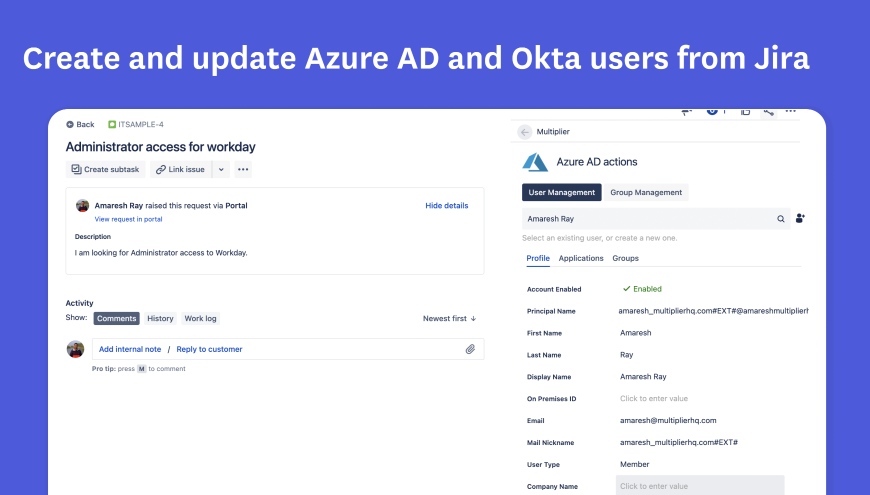 Streamline employee onboarding/offboarding
Onboard and offboard employees faster by provisioning Azure AD and Okta users directly from Jira, eliminating any need for context switching.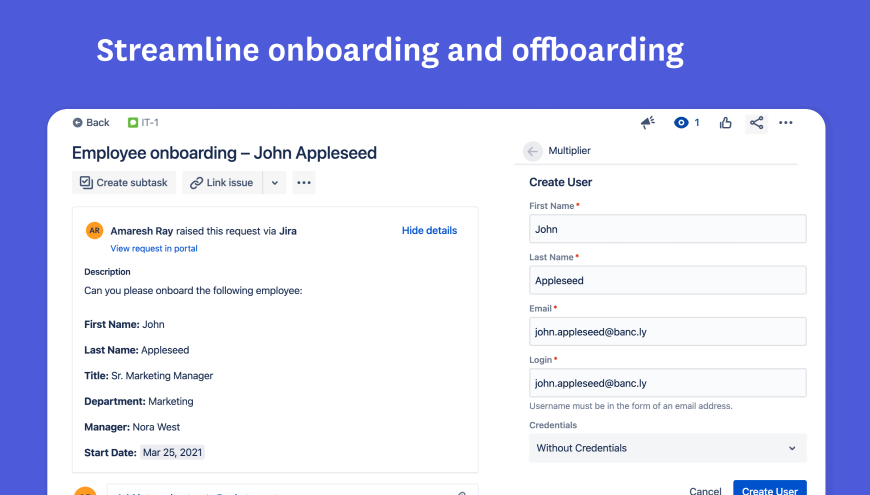 More details
Multiplier is FREE during our BETA
We're making this product free to try during the beta phase so we can focus on building a great product that people love.
----
Backed by Atlassian Ventures, Multiplier is the only way to orchestrate workflows and actions in Azure AD, Okta and Jumpcloud directly from Jira Cloud.
Brought to you by the same minds that built Jira Service Management, Multiplier can help you with the following use cases:
Display user attributes in the Jira issue side panel
Onboard and offboard employees directly from a ticket
Route tickets to managers for approval
Automatically assign and remove group memberships
Assign/remove apps
Reset passwords and MFA
Manage the employee lifecycle - title, department, manager changes, etc.
📖 Read our documentation 💬 Contact our support
Privacy and security
Privacy policy
Atlassian's privacy policy is not applicable to the use of this app. Please refer to the privacy policy provided by this app's vendor.
Vendor privacy policy
Security
This app is part of the Marketplace Bug Bounty Program. Learn more
This partner has completed the Security Self-Assessment Program. Learn more
Integration Details
Multiplier – Azure AD, Okta & Jumpcloud operations for Jira integrates with your Atlassian product. This remote service can:
View email addresses of users
Delete data from the host application
Write data to the host application
Read data from the host application