ToDo Issue Checklist with Forge
for Jira Cloud
Cloud Security Participant
Supported

Jira Service Management

Jira Software
Overview
Reviews
Support
Versions
Installation
Agile with To Do checklist: Prepare a detailed plan to execute the user story
Create ToDo List
Create easy and simple checklist with an explanation of what to do to execute the user story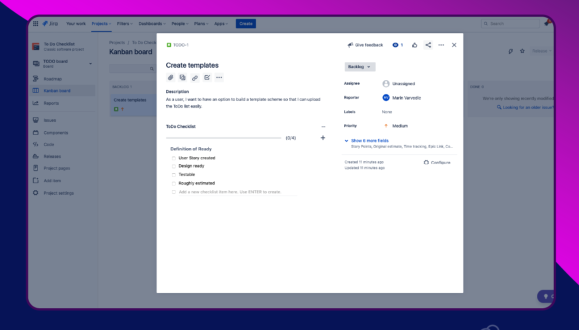 Mention Users
Mention users so that they are aware about their responsibilities during the sprint. Use an option to assign users responsible for the whole section.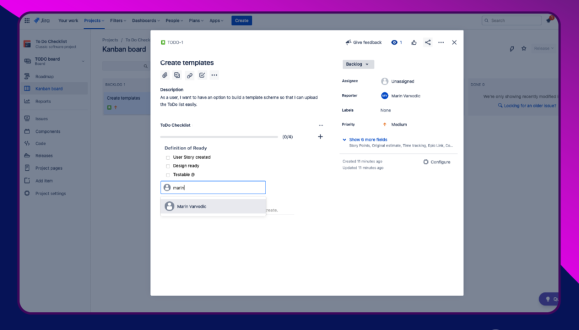 Detailed usage history
Follow the progress with the detailed usage history.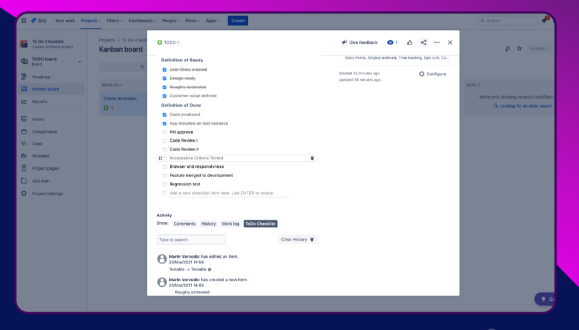 More details
Agile is used differently everywhere because each team customizes it to fit its company use case.
ToDo Checklist for Jira helps you to break up large stories, manage definition of ready, monitor definition of done stages, list you acceptance criteria and more.
Features:
Easy and simple checklist creation
Add a title to separate checklist items in different topics
Reorder checklist items and titles with simple drag and drop feature
Mention users
Detailed usage history. Who performed an action and when
ToDo Checklist is built in Forge, because we want to support Atlassian's new cloud app development platform that helps developers to build trusted and scalable with Atlassian-hosted compute and storage.
Our team monitors the Forge Changelog and What's coming to try out the latest beta functionality in Forge.
Privacy and security
Privacy policy
Atlassian's privacy policy is not applicable to the use of this app. Please refer to the privacy policy provided by this app's vendor.
Vendor privacy policy
Security
This app is part of the Marketplace Bug Bounty Program. Learn more
This partner has completed the Security Self-Assessment Program. Learn more
Integration Details
ToDo Issue Checklist with Forge integrates with your Atlassian product. This remote service can:
View user information in Jira that the user has access to, including usernames, email addresses, and avatars.
Read Jira project and issue data, search for issues, and objects associated with issues like attachments and worklogs.
View the profile details for the currently logged-in user.
Read and write to app storage service