monday.com for Jira
for Jira Cloud
Cloud Security Participant
Supported

Jira Service Management
Overview
Reviews
Pricing
Support
Versions
Installation
Seamlessly embed monday.com into Jira Cloud to for increased cross-team collaboration
Simply Embed Your Full Workflow
Any shareable link or an embed code will work! Just select the "Share" command from the board menu and copy it.
Works for:
-Boards
-Calendars
-Timelines
-Charts
and more
How to embed monday.com into Jira
1. Find the embed link via the share button on monday.com
2. Choose our monday.com app in and paste your link in the URL field
3. Every user can decide between a pop-up view or a fullscreen view.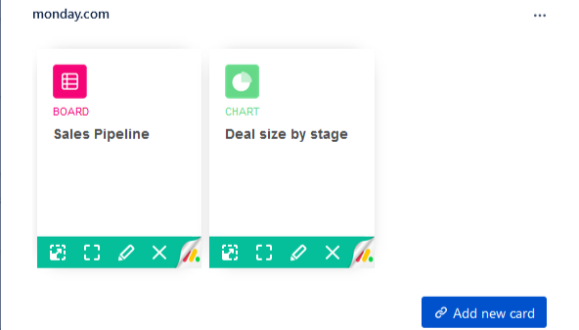 Extend Boards to Jira Users
Instead of working on a monday.com board within a small team, you can let any Jira user participate in the collaboration process. *
*Depends on the monday.com sharing settings
More details
Eliminate information silos and combine your monday.com workflow in Jira Cloud.
This includes Embedding:
project boards to publish your progress in any process with Jira users.
calendars for project coordination and activity overview
timelines to communicate the project status and align releases across multiple teams
charts to provide insights directly in Jira Cloud.
gantt charts to track dependencies and deadlines
workloads to track your team's capacity
maps to track physical locations as they relate to your work
kanban boards to publish agile progress in Jira Cloud
monday.com is one of the leading work management and collaboration tools. Their flexible boards allow you to easily create workflows that adapt to virtually any use case, including:
Project management
Marketing campaigns
CRM and sales
Creative work
IT operations
HR processes
Privacy and security
Privacy policy
Atlassian's privacy policy is not applicable to the use of this app. Please refer to the privacy policy provided by this app's vendor.
Vendor privacy policy
Security
This app is part of the Marketplace Bug Bounty Program. Learn more
This partner has completed the Security Self-Assessment Program. Learn more
Integration Details
monday.com for Jira integrates with your Atlassian product. This remote service can:
Write data to the host application
Read data from the host application