Simple Worklog
for Jira Cloud
Overview
Reviews
Pricing
Support
Versions
Installation
Time report and time tracking are easily to list out in the colorful format and customization look and feel
Build report with a few clicks
Select the projects/users which you want to view the report with the specific time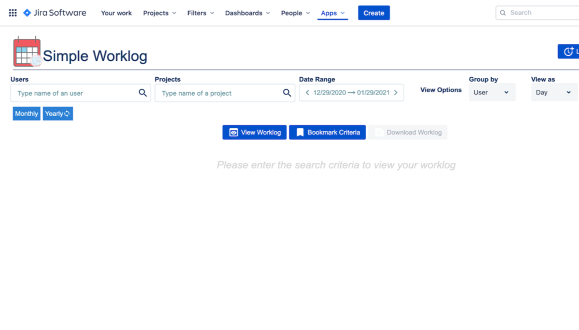 Colorful worklog report
Easy to view the report with the sticky header and fixed column. Data can be collapse and sort. Tooltip in each cell to self describe its value.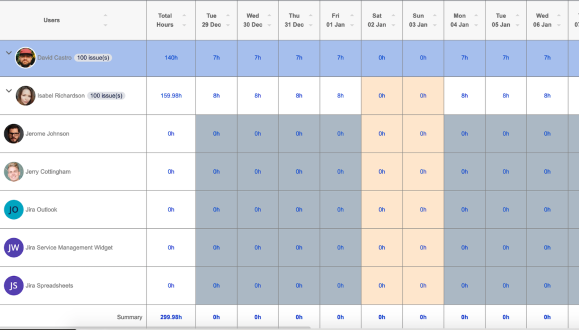 Support customization for the look & feel
Easy to make up the worklog report with your favorite colors and manage your own report criteria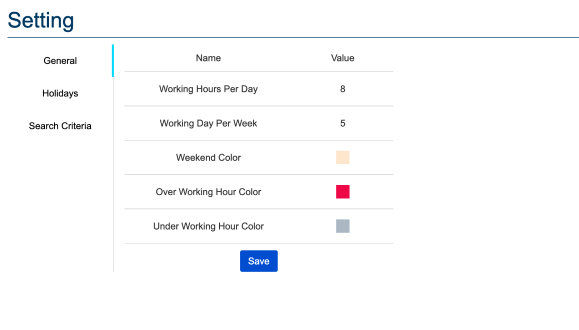 More details
This app allows you and your teams to build the worklog report easily and flexibly. Worklog report can be grouped by user/project and view as day/month/year with in the specific time range.
Just with a few clicks, the worklog report will be displayed in the colorfully table which offers a sticky header, fixed columns, collapsed rows and sort worklog by time spent
Key features:
Visualize your worklog report in a table
Download the worklog report as excel format
Supports ability to bookmark report criteria as well as a repeat report criteria to allow you and your team build the worklog report quickly
Supports Setting panel:

General Configuration: regular working hours per day, regular working days per week, etc. With these configuration, your report will highlight values in day/week/month when they are not in the valid range
Holidays: allows add holidays in your country to treat as non-working days, and set the color for these holidays
Report criteria: manage your report criteria.
Privacy and security
Privacy policy
Atlassian's privacy policy is not applicable to the use of this app. Please refer to the privacy policy provided by this app's vendor.
Vendor privacy policy
Security
This app is not part of the Marketplace Bug Bounty program. Learn more
This partner has not completed the Security Self-Assessment Program. Learn more
Integration Details
Simple Worklog integrates with your Atlassian product. This remote service can:
Read data from the host application
Gallery