Story Mapping for Jira - Free
for Jira Cloud
Overview
Reviews
Support
Versions
Installation
Manage your product backlog with a powerful & free user story mapping tool
Prioritise the right work
Build and deliver what is important to your customers and avoid over commitment by turning your backlog into a lightweight visual representation of real user requirements.
Build team consensus
Spark collaboration and conversation among Agile team members, provide your team with a big picture of how your customers interact with your product or service.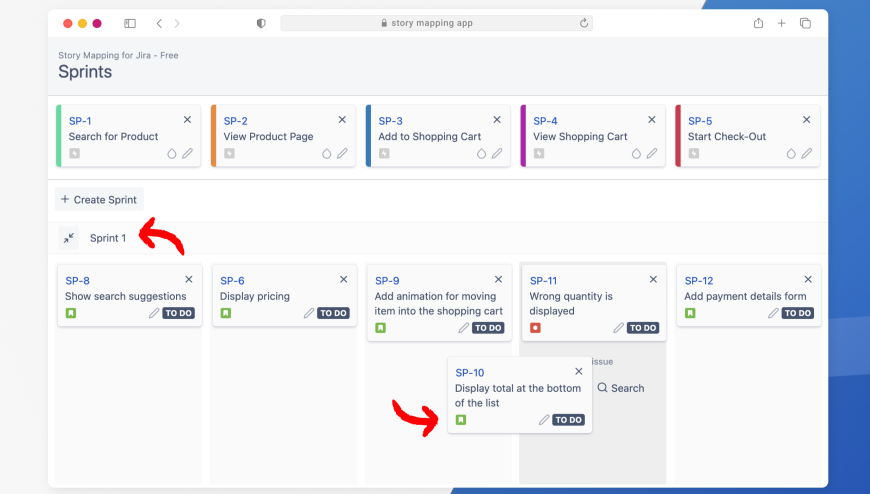 Deliver value
Plan releases and sprints by arranging tickets quickly via drag and drop. Map user activities by selecting existing epics or creating new issues directly from the user story map.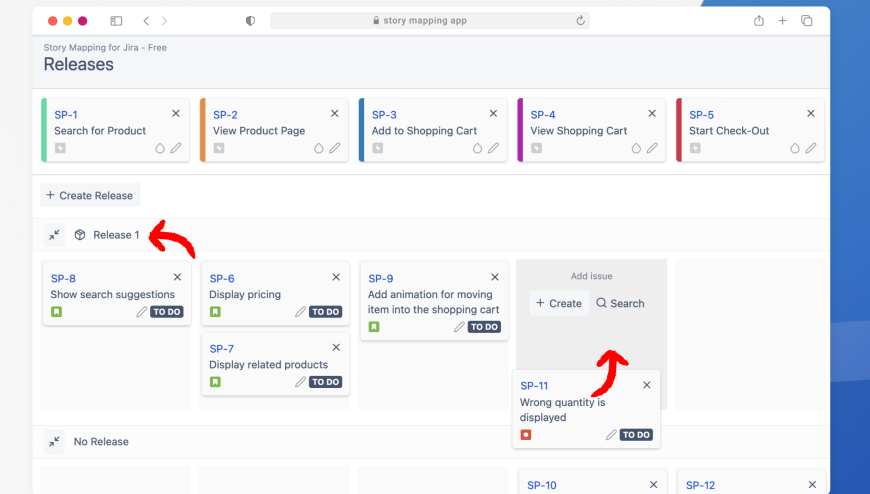 More details
Focus on user value and prioritise the right work with Storymapping for Jira - all for free. Build a visualisation of your product backlog, organise your work with sprints or releases. Gain a shared understanding of your product requirements and encourage conversation among team members.
Story mapping app integrates seamlessly into Jira
Create sprints and releases directly from the story map
Add and edit epics and issues with 2 clicks
Define custom colors for epics to improve clarity
All data is stored in your Jira instance
Any questions? Feel free to reach out to us!
Want to focus more on validating your product against user requirements? Check out our user journey mapping app!
Looking for more story mapping features? Have a look at the Pro Version!
Privacy and security
Privacy policy
Atlassian's privacy policy is not applicable to the use of this app. Please refer to the privacy policy provided by this app's vendor.
Vendor privacy policy
Security
This app is not part of the Marketplace Bug Bounty program. Learn more
This partner has completed the Security Self-Assessment Program. Learn more
Integration Details
Story Mapping for Jira - Free integrates with your Atlassian product. This remote service can:
Administer Jira projects
Delete data from the host application
Write data to the host application
Read data from the host application