Backlog Prioritization for JIRA. Free
for Jira Cloud
Supported

Jira Service Management

Jira Software
Overview
Reviews
Support
Versions
Installation
Prioritize your Jira backlog like a PRO. Use ICE, RICE, WSJF (SAFe) or create your custom priority matrix
Powerful Prioritization Grid
Searching, sorting, pagination - load custom columns. JQL Editor to load issues.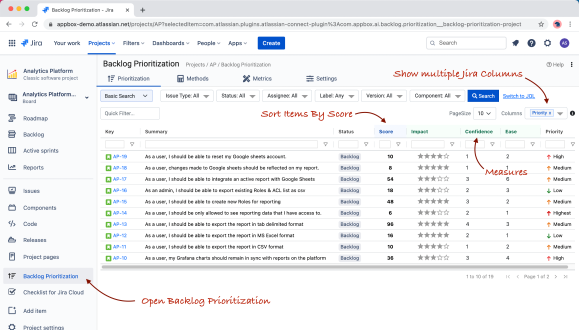 Use existing or create custom methods
Pre-loaded with most used prioritization methods, edit them or create your own. Every team is different, you decide what works best for your team.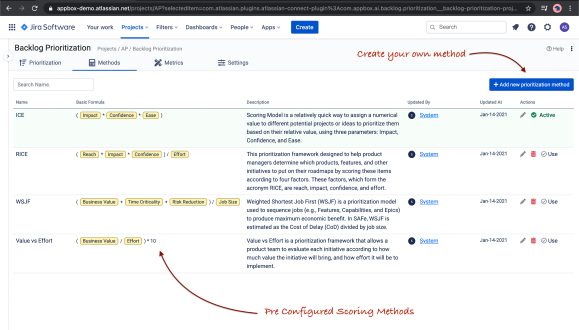 Update values from Issue view
Direct visibility into issue priorities, role based updates directly from the single ticket view.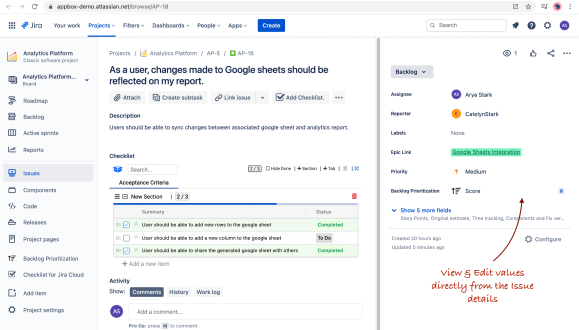 More details
Backlog Prioritization for JIRA enables you to organize your work more efficiently. Using existing ticket/task fields, you can create custom scoring for each item in your backlog or use a standard out of the box scoring framework like WSJF, RICE or ICE.
⚡️
Features:
Interactive priority matrix.
Use JQL to create your priority lists.
Powerful issue Grid.
Add issue fields.
Filter issues on they fly.
Use WSJF, RICE or ICE.
🔥 Top new vendor for 2021.
Privacy and security
Privacy policy
Atlassian's privacy policy is not applicable to the use of this app. Please refer to the privacy policy provided by this app's vendor.
Vendor privacy policy
Security
This app is not part of the Marketplace Bug Bounty program. Learn more
This partner has completed the Security Self-Assessment Program. Learn more
Integration Details
Backlog Prioritization for JIRA. Free integrates with your Atlassian product. This remote service can:
Delete data from the host application
Write data to the host application
Read data from the host application
Gallery