eSign Electronic Signatures for Confluence
for Confluence Cloud
Overview
Reviews
Pricing
Support
Versions
Installation
Regulatory-compliant document control with Electronic Signatures for Approval, Review or Read Confirmation
NEW - PDF Signature Archives and Download All attachments. See eSign Recent Changes.
Part 11 compliant electronic signatures for Confluence, including secondary user authentication, content change detection and signature verification.
Supports Read Confirmation
Streamlined content management workflow to automatically restrict editing after signatures.
Signature management with multi-user invitation support and user invite notifications
Signatures and all privacy data stored securely within Atlassian Confluence infrastructure
Includes Document Approval, Training Attendance and Read Confirmation Blueprints
Capture the Name, Title, Meaning, and local Date/Time of each Signature
Optional Macro for in page signature status and visibility. Present as Traditional (Handwritten signatures) or Compact views.
Content with Open/Finalized signatures automatically labelled for search
Privacy and security
Privacy policy
Atlassian's privacy policy is not applicable to the use of this app. Please refer to the privacy policy provided by this app's vendor.
Vendor privacy policy
Security
This app is not part of the Marketplace Bug Bounty program. Learn more
This partner has completed the Security Self-Assessment Program. Learn more
Integration Details
eSign Electronic Signatures for Confluence integrates with your Atlassian product. This remote service can:
View email addresses of users
Act on a user's behalf, even when the user is offline
Administer the host application
Administer Confluence spaces
Gallery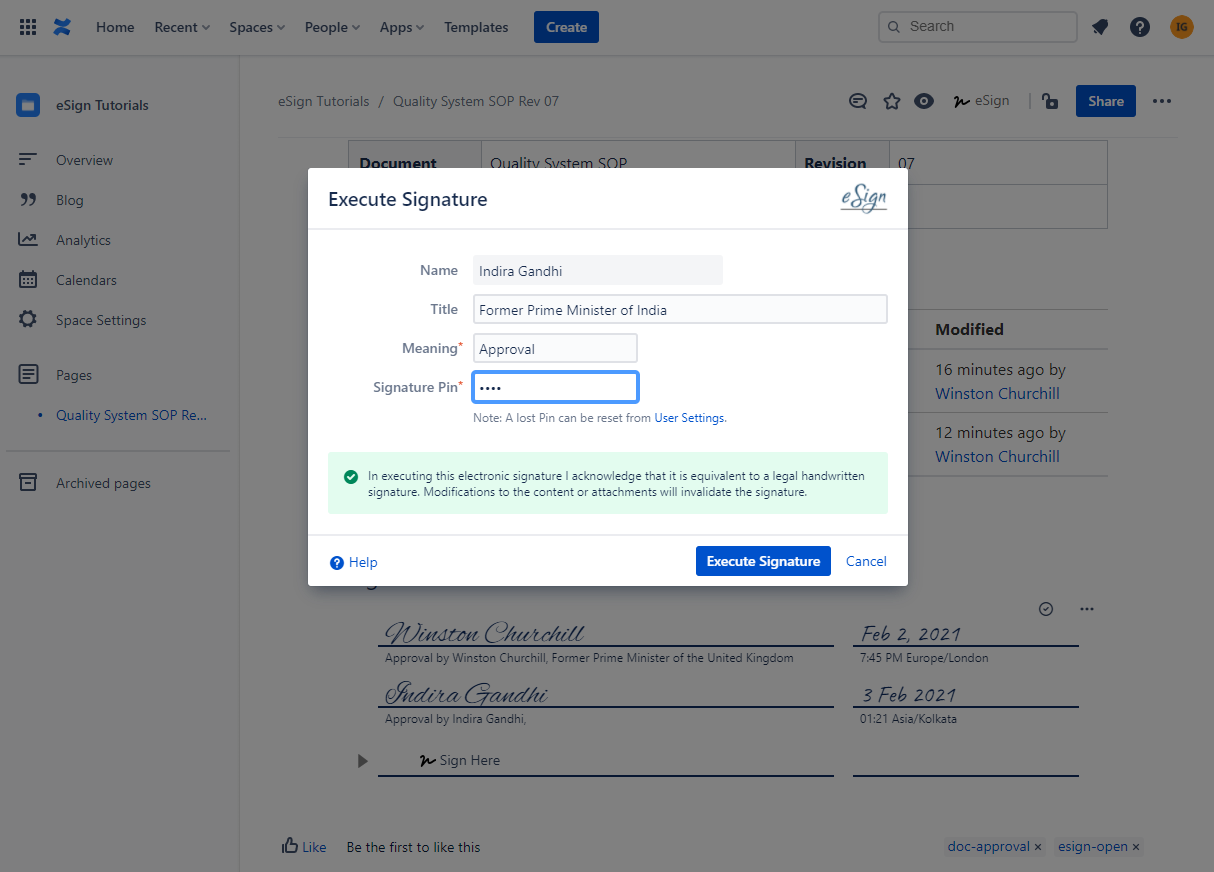 Electronically sign any Confluence content by one or more users, authenticated with personal signing pin. eSign records name, title, meaning and date/time and cryptographic lock with each signature.