Support this Customer (Customer notes)
for Jira Cloud
Supported

Jira Service Management
Overview
Reviews
Pricing
Support
Versions
Installation
Each customer is unique, add personalized notes to each organization to enhance your CX
Give your customers a personalized experience
Each customer is unique, some like to be contacted after hours, some don't. Some are easy to support while some can be quite complicated. Use Support this Customer to add personlized support notes for each organization.
Custom notes per organization
Each organization can be assigned unique support notes.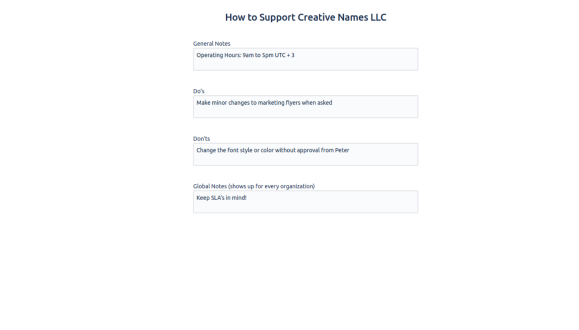 Easily accessible from the issue view
View General Notes, Do's / Don'ts and Global notes directly from the issue view. Global notes are available for all organizations while the General notes, Do's/Don'ts are uniquely customizable per organization.
Privacy and security
Privacy policy
Atlassian's privacy policy is not applicable to the use of this app. Please refer to the privacy policy provided by this app's vendor.
Vendor privacy policy
Security
This app is not part of the Marketplace Bug Bounty program. Learn more
This partner has not completed the Security Self-Assessment Program. Learn more
Integration Details
Support this Customer (Customer notes) integrates with your Atlassian product. This remote service can:
Write data to the host application
Read data from the host application