Surveys for JSM (Preview)
for Jira Cloud
Supported

Jira Service Management
Overview
Reviews
Support
Versions
Installation
Measure and improve your service desk with NPS and Csat
Automate NPS, CSat, and free-form survey questions
Net Promoter Score (NPS) and Customer Satisfaction (CSat) surveys are keys to building trust with customers and improving your help desk performance. Capture feedback from customers with customizable questions.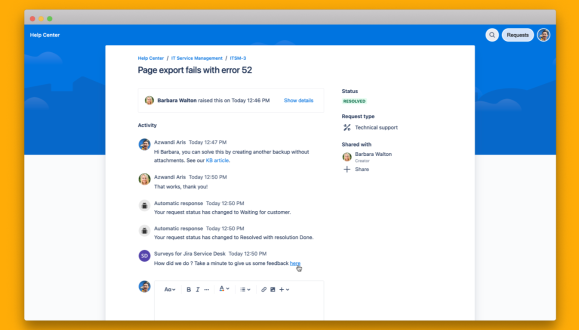 Track performance & customer satisfaction trend
With automated reporting, you can track, measure and analyze the performance of your agents. Identify response rate, and get tailored reports based on the type and scale of the questions.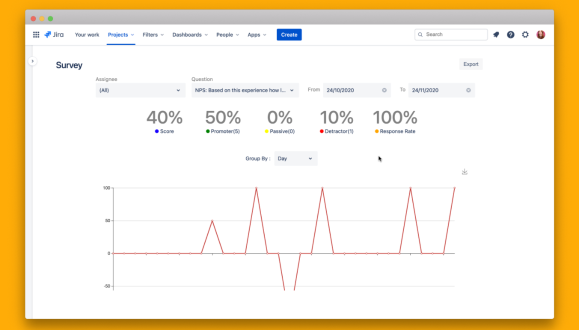 Facilitate in-context internal review process
The survey response, which lives side-by-side the actual request, provides in-context info to facilitate internal review process. Assign reviewers, track review status and leave notes for your agents to take action.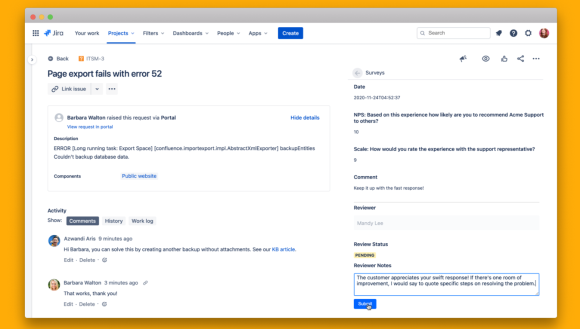 More details
PREVIEW RELEASE 🦄
Here at ServiceRocket labs, we're experimenting with this product and would love to get your feedback. Try it out and tell us what you think! - https://servicerocket.typeform.com/to/Kw7ZT2Fo
Measure and improve your ITSM workflow with user satisfaction surveys and review process tools.
Benefits:
Improve customer satisfaction, experience and loyalty
Develop operational understanding on customer satisfaction
Track agent performance and customer satisfaction trend
Improve customer service skills
Key features:
Automated NPS and CSat reporting within Jira Service Management
Assign and comment field for internal case reviews
Customizable survey questions
View customer tickets and surveys history
REST API to extract data
Use cases:
Customer help desk
ITSM service desk
Knowledge centered support (KCS)
To get started, visit our docs.
Privacy and security
Privacy policy
Atlassian's privacy policy is not applicable to the use of this app. Please refer to the privacy policy provided by this app's vendor.
Vendor privacy policy
Security
This app is not part of the Marketplace Bug Bounty program. Learn more
This partner has not completed the Security Self-Assessment Program. Learn more
Integration Details
Surveys for JSM (Preview) integrates with your Atlassian product. This remote service can:
Write data to the host application
Read data from the host application
Gallery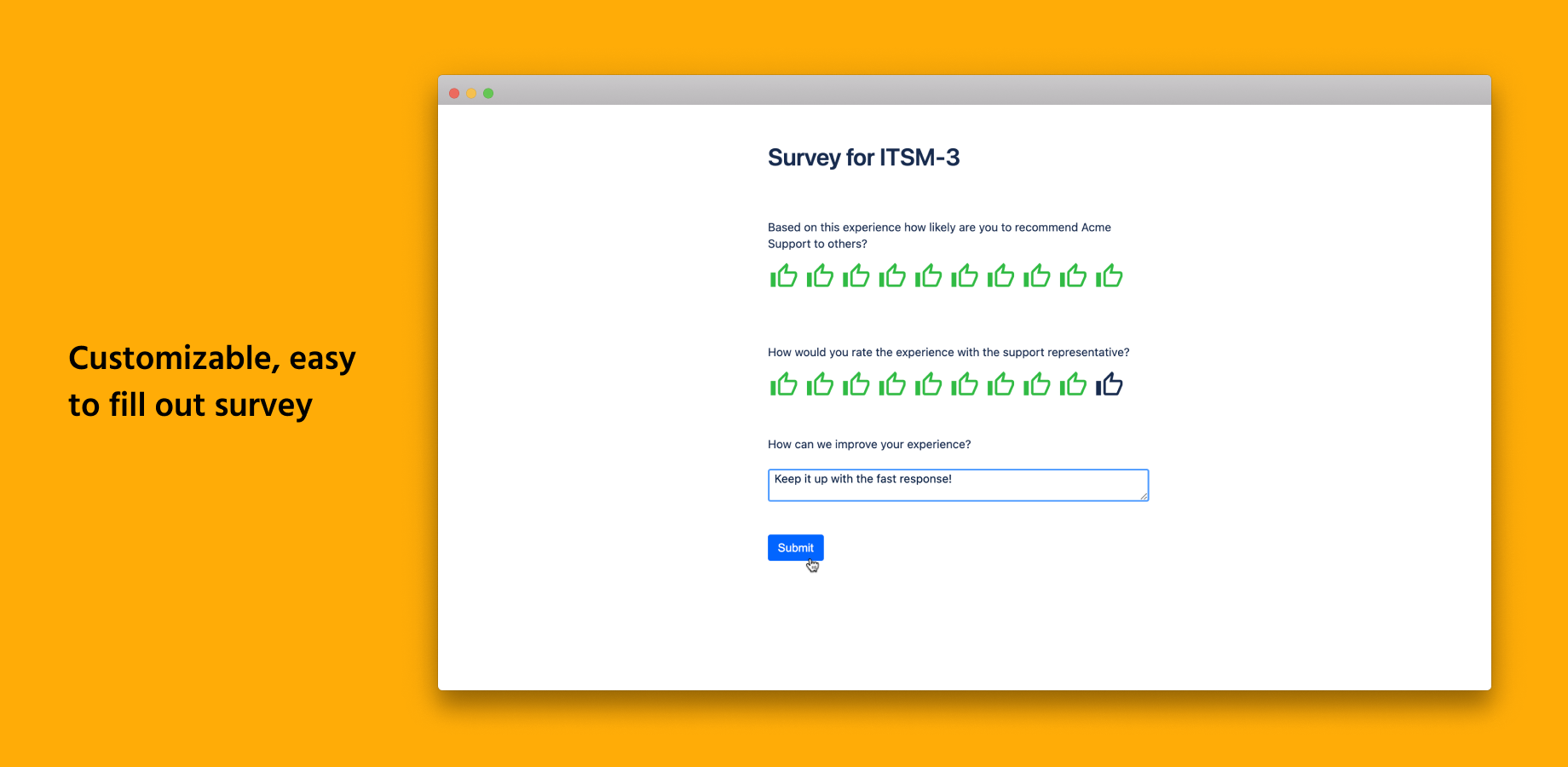 Customizable, easy to fill out survey