Messages for Jira
for Jira Cloud
Overview
Reviews
Pricing
Support
Versions
Installation
A streamlined messaging service - integrated with Jira to support collaboration across teams, projects and issues
Quick access to your messages
Find your conversations from the Apps menu where ever you are in Jira! View pending notifications with badges and pick up where you left off with your team.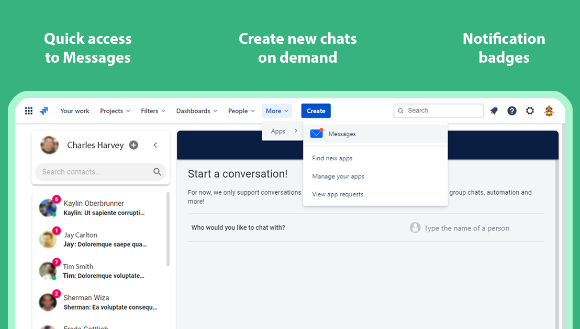 Real-time status updates and notifications
Get alerted in real-time when you receive new messages and see who's online. Collapse the conversation drawer so you can focus on collaborating with your teammates.
Conversation management tools
Take control of your security and data privacy. Delete conversations and start new ones when you need to.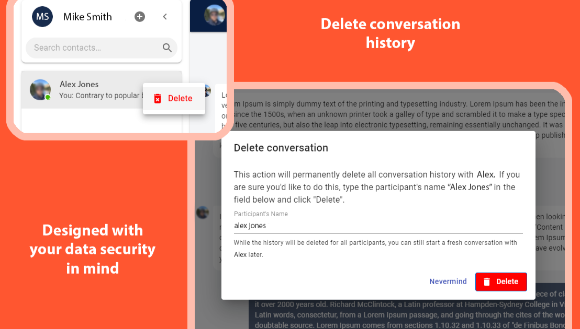 More details
Collaborate across projects and issues, coordinate resource planning and to get issues resolved. Get notified when you receive new messages and see who's online.
This is a fully supported messaging client integrated with Jira. We're working on bringing additional features, so if there's something you'd like to see added, let us know!
Features:
Focus on conversations that matter. Search for users within your instance to start conversations with simply by typing their name.
Take data privacy into your own hands. Right click on a conversation to delete it. You can always start a new conversation later!
Activity. See who's online and available to chat with!
Get notified. Receive notifications while you've got the app open when other people are sending you messages. Click 'Reply' and quickly jump to the conversation.
Find what you're looking for. Search within your conversation list for that person you want to connect with.
Privacy and security
Privacy policy
Atlassian's privacy policy is not applicable to the use of this app. Please refer to the privacy policy provided by this app's vendor.
Vendor privacy policy
Security
This app is not part of the Marketplace Bug Bounty program. Learn more
This partner has not completed the Security Self-Assessment Program. Learn more
Integration Details
Messages for Jira integrates with your Atlassian product. This remote service can:
Write data to the host application
Read data from the host application