Resource Planning & Project Management
for Jira Cloud, Jira Server 8.0.0 - 8.16.1, Jira Data Center 8.0.0 - 8.18.1
and more
Cloud Security Participant
Overview
Reviews
Pricing
Support
Versions
Installation
Visualize project's tempo & team's workload. Along with tools managers need for resource management, project & program management
Resource Planning
Visualize tasks in project or program. Planning made easy by drag&drop and resizing tasks.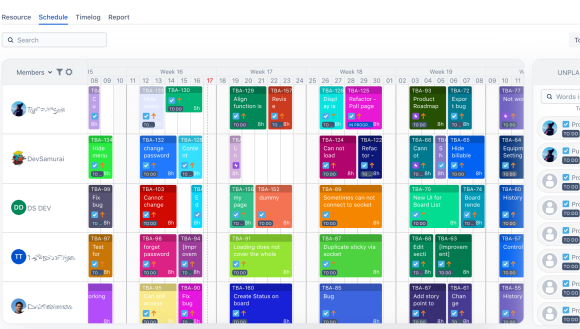 Timelog
Simplified tedious time tracking task. Resize the task to log time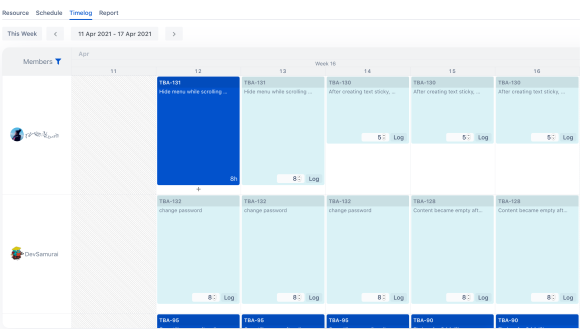 Rich Reports
Rich set of resources management reports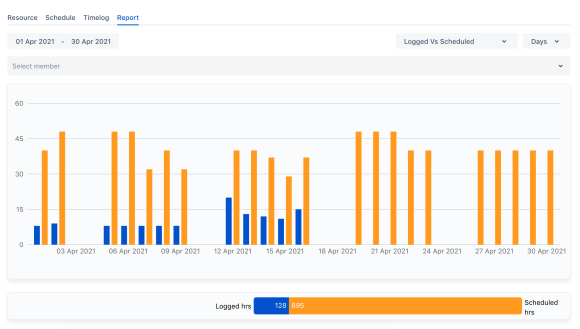 More details
Team Board - Resource Management for Project & Program provides a comprehensive tool to see and plan a big picture of resource availability and utilization. Supports project managers to manage teams and provides insight into the project or program's progress.
Daily task scheduling
Resource planning

Schedule for Team, Project, Program
Allows planning for multiple resources and multiple times on one Jira issue

Time tracking
Reporting
Modern designed visual board where you can plan for your project or program.
Drag&drop to schedule tasks.
Resize card to plan
Easy time tracking
Interactive time reports
See more:
If you need timesheet, vacation approval solution please consider TeamBoard Time
Privacy and security
Privacy policy
Atlassian's privacy policy is not applicable to the use of this app. Please refer to the privacy policy provided by this app's vendor.
Vendor privacy policy
Security
This app is part of the Marketplace Bug Bounty Program. Learn more
This partner has completed the Security Self-Assessment Program. Learn more
Integration Details
Resource Planning & Project Management integrates with your Atlassian product. This remote service can:
Act on a user's behalf, even when the user is offline
Administer the host application
Administer Confluence spaces
Administer Jira projects
Gallery
Wide view to see your team's capacity