Overview
Reviews
Support
Versions
Installation
Identify technical debt that will get in the way of your roadmap and address it before it does
Align technical debt with feature work
Stepsize analyses each Jira issue to surface technical debt to consider addressing while working on it. This helps you plan more effectively and ensure the refactoring work you take on has a well-defined purpose.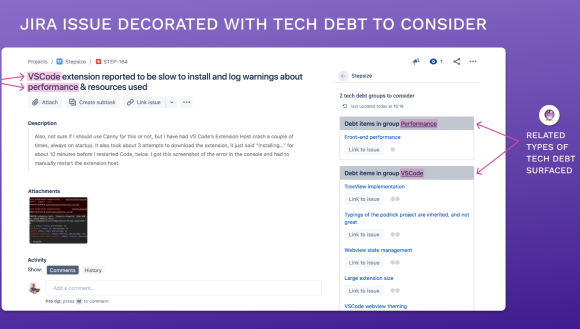 Capture your decisions about scope
Once you've identified some technical debt that is worth reducing to work more effectively on an issue, you can record this decision for everyone to see and officially include it in the scope of the work.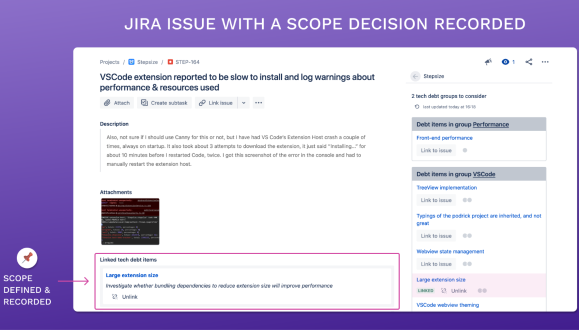 Manage technical debt outside of your backlog
Jira is great to manage projects. Tech debt is not a project – it's the technical context within which projects occur. Stepsize helps you maintain a clean backlog tightly linked to clear documentation of technical debt.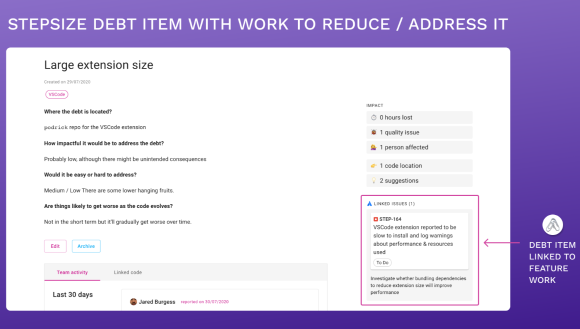 Privacy and security
Privacy policy
Atlassian's privacy policy is not applicable to the use of this app. Please refer to the privacy policy provided by this app's vendor.
Vendor privacy policy
Security
This app is not part of the Marketplace Bug Bounty program. Learn more
This partner has not completed the Security Self-Assessment Program. Learn more
Integration Details
Stepsize Tech Debt Manager for Jira integrates with your Atlassian product. This remote service can:
Write data to the host application
Read data from the host application