Label UP! for Confluence
for Confluence Cloud
Overview
Reviews
Support
Versions
Installation
Label UP! is a smart app that takes care of labelling pages for you
Smart label suggestions
Let Label UP! do the work for you and tell you which labels would be the most suitable for your page and create them for you. You don't have to think about all the thing you wrote about and how to describe your content.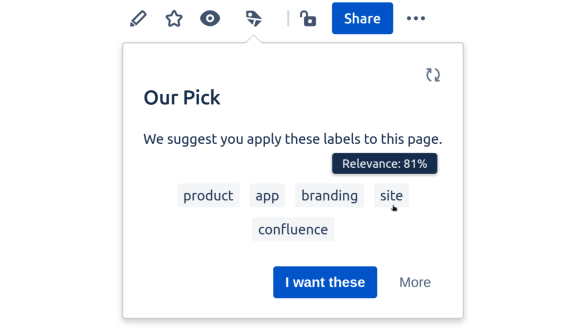 One-click away
Label UP! gives you a list of suggestions. All you need to do is to confirm and it creates the labels for you. One click is enough, or you can choose to add your own insight to get a more precise fit.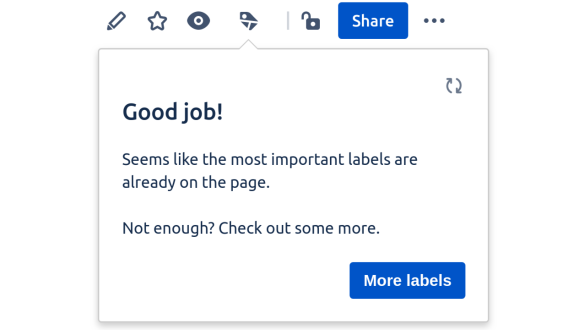 Easy to find content
In Confluence it is so easy to find or aggregate pages if they are properly labelled. Unfortunatelly, users often skip this step. Label UP! makes it so easy that no content will ever be burried again.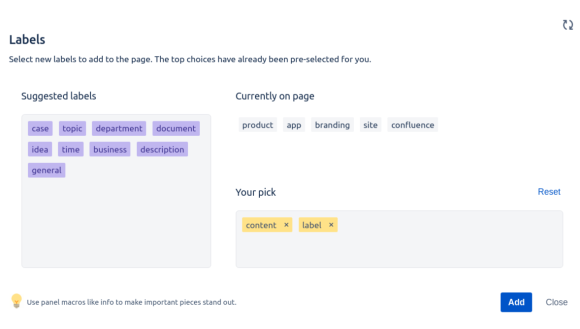 More details
Label UP! does page labelling for you. It is smart and it "reasons" the way you would. It analyses the content of the page, considers the information and evaluates what the content is about.
Based on that, it gives you a list of top label suggestions which you can just accept with one single click and the page is labelled for you. If you want to have more control and tune up the list of labels before applying it to the page, by all means.
See our documentation for a full list of features and supported languages and contact us if you have requests.
Have you ever created a page in Confluence and couldn't find it a couple of days later? Did you search for it using words or pieces of phrases you thought you remembered writing in it? What if you want to find all content relevant to a specific topic or find all documents of a certain type? You might want to setup a knowledge base either internal or for your clients. With Label UP! it is so easy to make sure all pages are ready and labelled.
Privacy and security
Privacy policy
Atlassian's privacy policy is not applicable to the use of this app. Please refer to the privacy policy provided by this app's vendor.
Vendor privacy policy
Security
This app is not part of the Marketplace Bug Bounty program. Learn more
This partner has not completed the Security Self-Assessment Program. Learn more
Integration Details
Label UP! for Confluence integrates with your Atlassian product. This remote service can:
Delete data from the host application
Write data to the host application
Read data from the host application
Gallery