Overview
Reviews
Support
Versions
Installation
Safely and conveniently migrate to Jira Data Center on AWS infrastructure
Deploy with confidence on AWS
Set up recommended infrastructure with best-practice settings using built-in CloudFormation templates. These templates are the same ones used by our Jira, Confluence, and Bitbucket Quick Starts on AWS.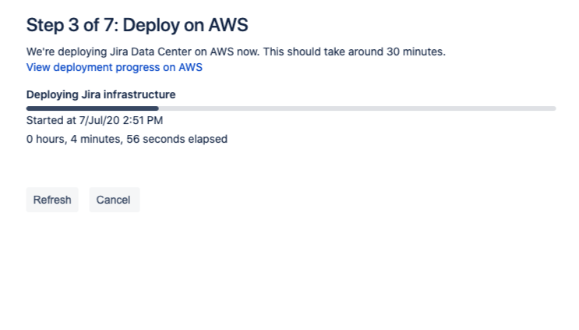 Migrate with ease
Transfer everything in your home directory and database to your new infrastructure. That means you'll only need to manually copy custom apps and third-party integrations (including any external user directories).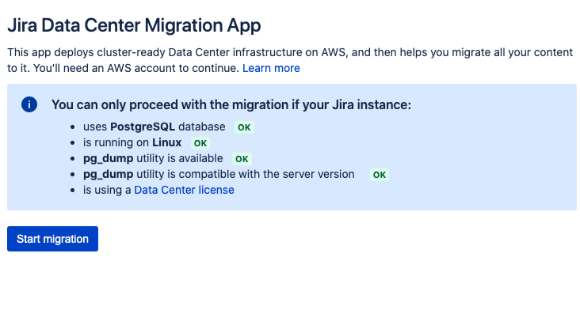 Minimal disruption
Keep your site running during migration, and only take it offline for a final sync. This lets you test migrations with the app multiple times until you're comfortable moving your users over.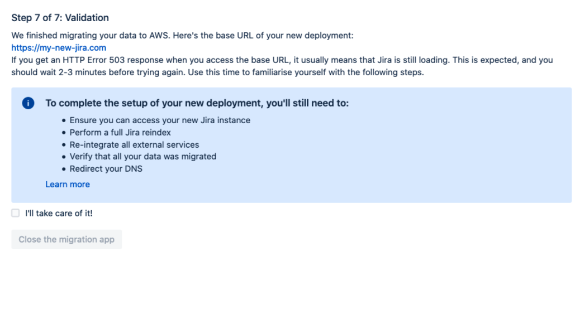 More details
The Jira Data Center Migration app offers a convenient and safe method for migrating to cluster-ready infrastructure. In one process, the app deploys scalable a Jira Data Center infrastructure on AWS and migrates your data to it.
This app is compatible with Jira Software and Jira Service Desk instances that:
Use a PostgreSQL database
Are installed on Linux
Privacy and security
Privacy policy
Atlassian's privacy policy is not applicable to the use of this app. Please refer to the privacy policy provided by this app's vendor.
Vendor privacy policy
Security
This app is part of the Marketplace Bug Bounty Program. Learn more