Domat Pomodoro for Jira
for Jira Cloud
Supported

Jira Service Management
Overview
Reviews
Support
Versions
Installation
Boost your productivity with Pomodoro Technique
Create pomodoros on the issue
You can easily create a pomodoro and track it through the issue you're working on. Domat pomodoro for jira shows you the remaining time for the next break and notifies you when the pomodoro is complete.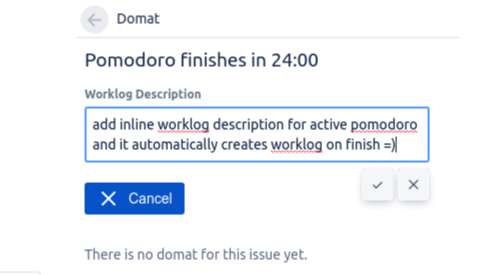 Your team's pomodoro activity
While you're on a pomodoro, one of the most annoying thing is interruptions! Domat Pomodoro shows you who's on pomodoro and prevents you asking her "are you on pomodoro?". Everybody is happy with Domat Pomodoro =)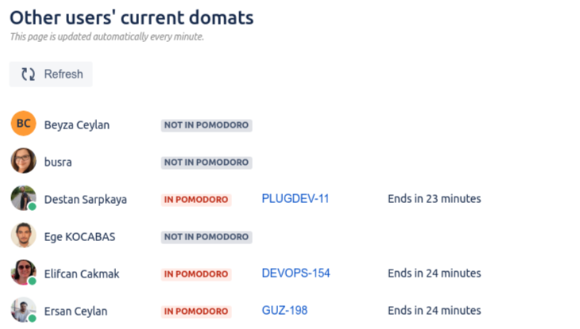 Completed pomodoros
You can see your completed pomodoros through the domat panel on issue detail view. You can also see active pomodoro(if any) on the panel.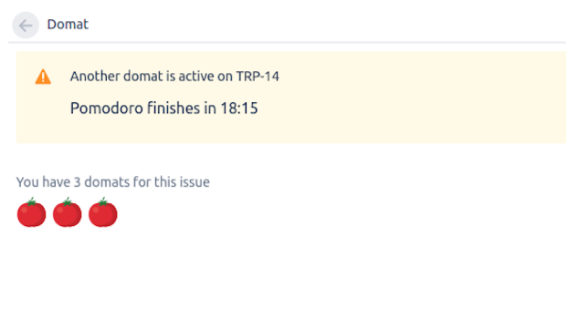 More details
The Pomodoro Technique is a time management method developed by Francesco Cirillo in the late 1980s.
Over 2 million people have already used the Pomodoro Technique to transform their lives, making them more productive, more focused and even smarter.
With this plugin you can bring all the benefits of Pomodoro Technique to your Jira!
You can:
Start a Pomodoro for a Jira issue
Be notified when your Pomodoro is finished
See when you're in a break
Short breaks between Pomodoros and a long break after every 4 Pomodoros
You can see a list of users and see if they're in Pomodoro or not.
See if a person is online (active in Jira in last 10 minute)
Every finished Pomodoro is automatically logged as a worklog with your (optional) custom details message.
Finished Pomodoros in issues are queryable in JQL.
Privacy and security
Privacy policy
Atlassian's privacy policy is not applicable to the use of this app. Please refer to the privacy policy provided by this app's vendor.
Vendor privacy policy
Security
This app is not part of the Marketplace Bug Bounty program. Learn more
This partner has not completed the Security Self-Assessment Program. Learn more
Integration Details
Domat Pomodoro for Jira integrates with your Atlassian product. This remote service can:
Act on a user's behalf, even when the user is offline
Delete data from the host application
Write data to the host application
Read data from the host application