Agile User Story Map & Product Roadmap for Jira
for Jira Cloud, Jira Server 8.0.0 - 8.18.1, Jira Data Center 8.0.0 - 8.18.1
and more
Cloud Security Participant
Overview
Reviews
Pricing
Support
Versions
Installation
Product management made easy. User story mapping supports product backlog refinement, personas, roadmap, and project management
Telling a visual story from user's perspective
The narrative flow from the left to the right is organized the order of your story
Prioritisation and release management tool
User release or sprint swim lane to organize development plan.
Release/Sprint Roadmap
Confirm and plan Release/Sprint roadmap in an interactive view.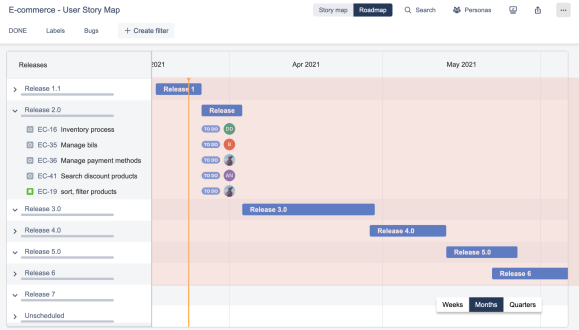 More details
User Story Mapping has became a popular user story management technique.It is an engaging activity where all participants are involved in the process of building the product backlog.
DevSamurai User Story Mapping plugin implement the story mapping concept closely and brings all following capabilities to you within Jira
Advanced features:
New Goal layer on top of Jira epic to support 3-level mapping
Associate with Jira Agile board and enable story map for multiple projects
Associate and show personas in Goal, Issue details
Plan by Release or Sprint
Roadmap view of Release/Sprint
Integration and display user story map in Confluence
Learn more:
Privacy and security
Privacy policy
Atlassian's privacy policy is not applicable to the use of this app. Please refer to the privacy policy provided by this app's vendor.
Vendor privacy policy
Security
This app is part of the Marketplace Bug Bounty Program. Learn more
This partner has completed the Security Self-Assessment Program. Learn more
Integration Details
Agile User Story Map & Product Roadmap for Jira integrates with your Atlassian product. This remote service can:
Administer Jira projects
Delete data from the host application
Write data to the host application
Read data from the host application
Gallery