eSign Electronic Signatures for Jira
for Jira Cloud
Supported

Jira Service Management

Jira Software
Overview
Reviews
Pricing
Support
Versions
Installation
Comprehensive Electronic Signatures solution for US FDA CFR Part 11 and other regulated environments
eSign any JIRA Issue
Execute electronic signatures on any Jira Issue. Each signature contains signee name, title, date/time, signature meaning and is locked cryptographically to the Issue.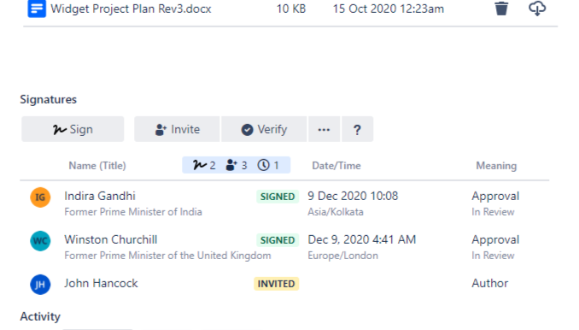 Execute Signatures natively in Jira Mobile
View and Execute Signatures in the Jira Mobile app natively on iOS and Android tablets/smartphones.
Signature Invites and Notifications
Use the Invite feature to include users/groups required for signatures. Track and manage outstanding signatures for all users with various meanings.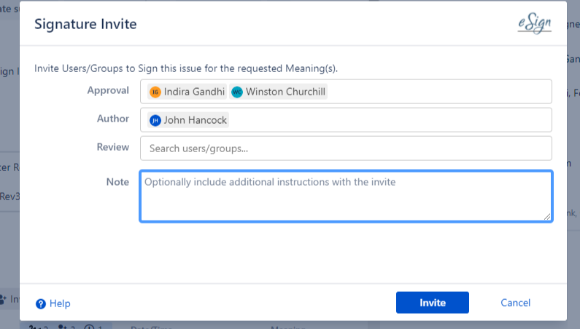 More details
July 2021: Bulk Operations: Invite and Verify. See Recent Changes for more details.
April/May 2021: Jira Mobile, Signature Migration, Security Improvements and GDPR Compliance.
Comprehensive electronic signature addon for Jira. Designed to meet FDA CFR Part 11 requirements for electronic records and signatures.
See eSign Feature Summary for full details
Execute and Verify Signatures for any Issue Type
Multi-factor authentication with re-usable personal Signature Pins in addition to Jira Cloud security.
Invite and track signatures from multiple users and groups. (See Screencast)
Advanced Security option to use JIRA security permissions and ability to sign locked-down (read-only) issues.
Supports end customer Signatures within the Service Management Portal
Multi-State signature support; users can sign the same issue in multiple statuses with workflow validator enforcement.
All signature and private user data stored securely within your JIRA cloud environment.
Privacy and security
Privacy policy
Atlassian's privacy policy is not applicable to the use of this app. Please refer to the privacy policy provided by this app's vendor.
Vendor privacy policy
Security
This app is not part of the Marketplace Bug Bounty program. Learn more
This partner has completed the Security Self-Assessment Program. Learn more
Integration Details
eSign Electronic Signatures for Jira integrates with your Atlassian product. This remote service can:
View email addresses of users
Administer the host application
Administer Confluence spaces
Administer Jira projects
Gallery
Execute user signatures, capturing name, title, date/time, meaning. Signature is authenticated by User Pin and locked to the issue.