Wallboard
for Confluence Server 6.15.1 - 7.12.3
Overview
Reviews
Pricing
Support
Versions
Installation
Display Wallboards on screens directly from Confluence content
Slideshow Fullscreen Display
Use any image and display it fullscreen as a slideshow in any browser.
Edit as any other Confluence content
You can edit your page like you do with any other content. You can even include pages or use other Confluence macro features that are compatible with your screen device.
Edit Display Time
Edit the display time for each slide. Customize the experience for your screen watchers.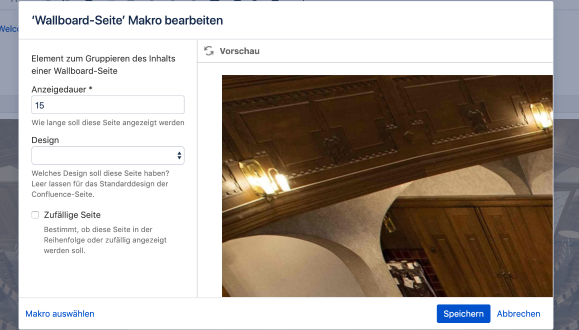 More details
This app will display your confluence content in fullscreen mode on any Webbrowser-enabled device. You can use it to show public information, graphs from JIRA or gadgets from other Atlassian products and many more.
This app is currently available in German and English.
Privacy and security
Privacy policy
Atlassian's privacy policy is not applicable to the use of this app. Please refer to the privacy policy provided by this app's vendor.
Vendor privacy policy
Security
This app is not part of the Marketplace Bug Bounty program. Learn more