WSJF for Jira - Calculation and Sorting
for Jira Cloud, Jira Server 7.5.0 - 8.19.1, Jira Data Center 7.5.0 - 8.19.1
and more
Overview
Reviews
Pricing
Support
Versions
Installation
Enterprise-grade solution for automating Weighted Shortest Job First (WSJF) calculation and issue sorting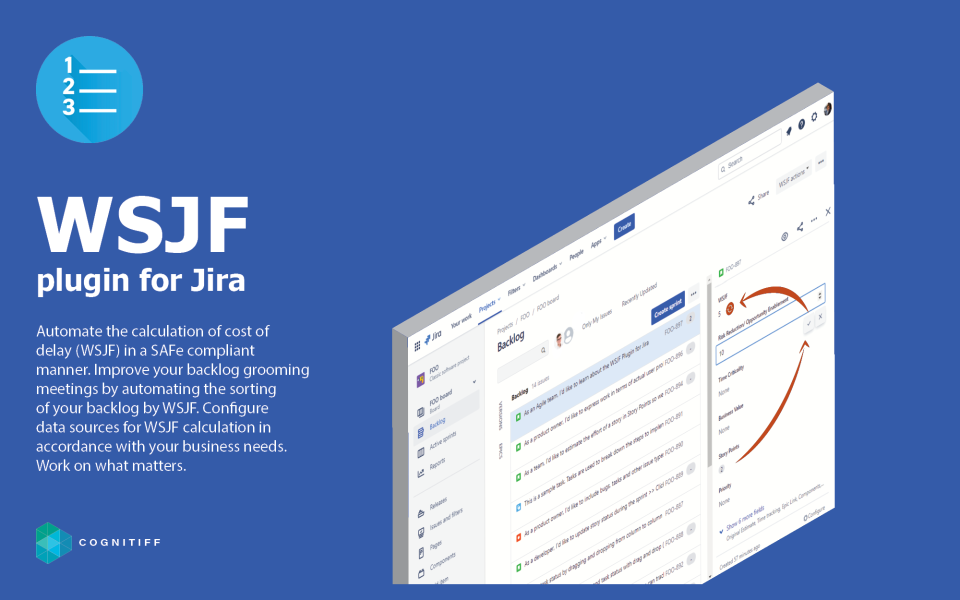 Automatic WSJF calculation
The WSJF plugin automatically re-calculates the WSJF value on changes in the input terms - Business Value, Time Criticality, Risk Reduction / Opportunity Enablement, or Job Size.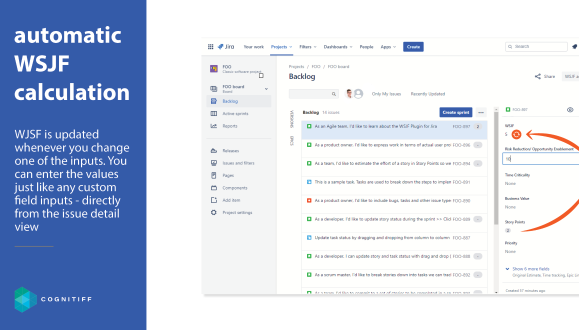 Easy sorting of issues by WSJF
Expedites backlog prioritization by automating the sorting of issues by WSJF. Saves users from having to sort issues using drag-and-drop manually.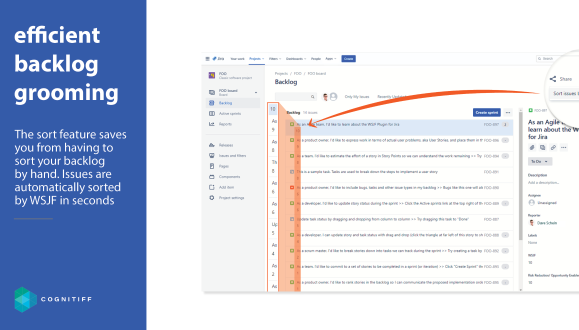 Simple configuration
Stories and other issues can be configured to inherit the WSJF value from their parent epic. Useful in cases when standalone epics as well as individually delivered, stories carry cost-of-delay.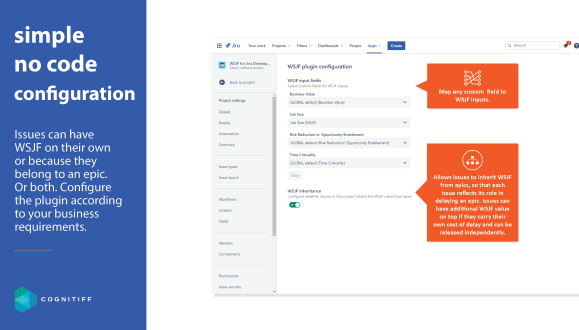 More details
Weighted Shortest Job First (WSJF) is a prioritization algorithm for sequencing work that has been widely embraced by the lean community. The model is a cornerstone of SAFe and is applied by organizations of all sizes. WSJF is based on the concept of Cost of Delay, which product development guru Don Reinertsen argues is the "one thing" product developers need to quantify.
Automated WSJF calculation:
WSJF value updated immediately upon changes in input terms
Stories inherit WSJF from epics if configured
Use any custom field for WSJF inputs
No scripting or coding required
Automated backlog prioritization:
Fast and easy sorting of issues by WSJF
No loss in drag-and-drop functionality
Easy access to sorting functionality directly from scrum or Kanban board
Enterprise-ready:
Developed by agile consultants
Used by MNCs
GDPR compliant
--
Resources to help you and your team get started.
Need help with issue sorting only? Check out Sort-by-any-Field Plugin for Jira
--
Privacy and security
Privacy policy
Atlassian's privacy policy is not applicable to the use of this app. Please refer to the privacy policy provided by this app's vendor.
Vendor privacy policy
Security
This app is not part of the Marketplace Bug Bounty program. Learn more
This partner has completed the Security Self-Assessment Program. Learn more
Integration Details
WSJF for Jira - Calculation and Sorting integrates with your Atlassian product. This remote service can:
Act on a user's behalf, even when the user is offline
Administer the host application
Administer Jira projects
Delete data from the host application