Async Poker - Remote Planning&Estimation
for Jira Cloud
Cloud Security Participant
Overview
Reviews
Pricing
Support
Versions
Installation
Planning Poker for estimating your product backlog activities in an async method for collocated, distributed, remote Agile teams
Issue preview with editing, jira and game comments
📺 No need to open two windows and switch between them.
📋 Fully functional issue preview with links, images, and attachments, comments.
🔧 Step an issue layout for async planning poker games.
💬 Game related comments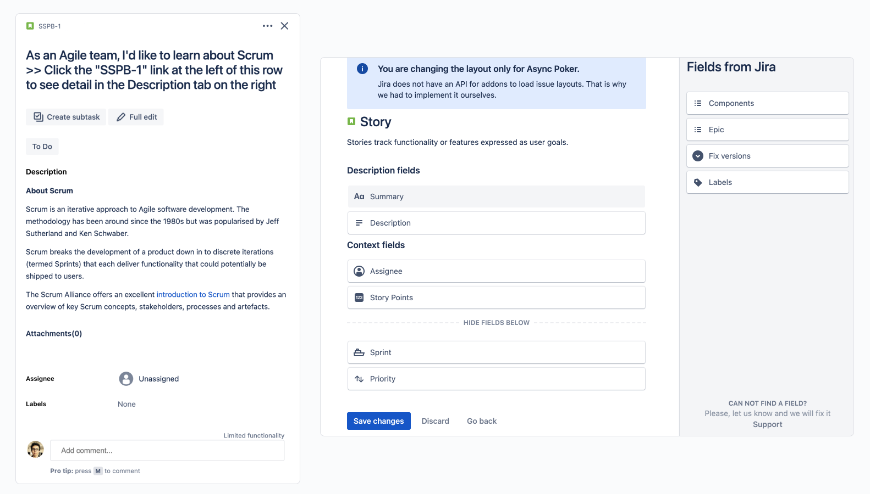 Jira Mobile and Jira issue integration
🥌 Add issues to a game.
🥊 Move issues between games.
⛹ Play or manage games from your phone.
Easy filtering, interactive review mode
🎵 basic issue filtering.
🎶 advanced JQL filtering.
🔫 following a moderator during review mode in realtime.
🪱 slack integration.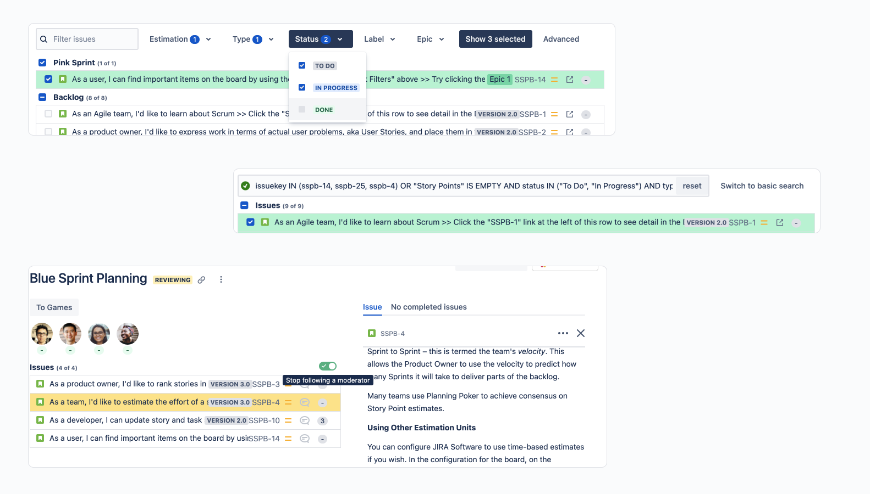 More details
As an engineer, have you tired of being interrupted for a planning poker session while focusing on development?
As a planning poker session facilitator, have you tired that your team is not ready for the session?
Are you annoyed by long hours of sessions?
There is a solution! Move your estimation to the background. Do estimates when you have time, and discuss final points if there is a big difference between team members. Do not interrupt your development!
Async Poker is a tool for estimating your product backlog efforts in Jira in an asynchronous way for collocated, distributed, or remote Agile teams. It increases the accuracy of estimations.
Async poker is not a standard way of planning poker when you go with your team issue by issue together. In Async Poker, each team member goes by himself through a list of prepared issues by a moderator. And then, in the review stage, issues are discussed if required.
Read more about 5 Key Benefits of Asynchronous Planning Poker.
Privacy and security
Privacy policy
Atlassian's privacy policy is not applicable to the use of this app. Please refer to the privacy policy provided by this app's vendor.
Vendor privacy policy
Security
This app is part of the Marketplace Bug Bounty Program. Learn more
This partner has completed the Security Self-Assessment Program. Learn more
Integration Details
Async Poker - Remote Planning&Estimation integrates with your Atlassian product. This remote service can:
View email addresses of users
Administer the host application
Administer Jira projects
Delete data from the host application
Gallery
Leave comments related to a game only for a review