WorkBoard OKRs for Jira
for Jira Server 8.0.0 - 8.18.2, Jira Data Center 8.0.0 - 8.18.2
and more
Supported

Jira Service Management

Jira Software
Overview
Reviews
Support
Versions
Installation
WorkBoard is the leading OKR solution for enterprise. Make alignment and accountability remarkably easy with OKRs in Jira
Drive great results with WorkBoard in Jira
Use WorkBoard to align your team's OKRs for the quarter to company strategy, while measuring progress in Jira. Measure what really matters, visualize progress, and instantly see risks and results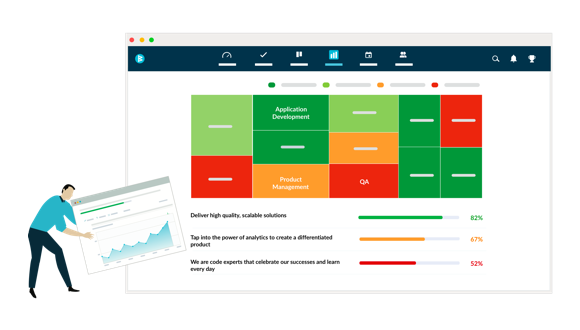 See your work in Jira advance team OKRs
See progress on your team's OKRs and how your work impacts team outcomes and your company's priorities -- all within Jira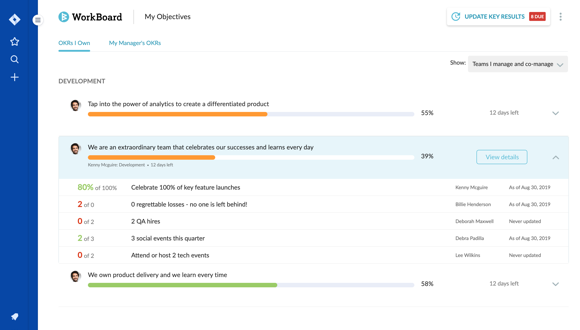 Automate and share your Key Results within Jira
Automatically update key results updates with JQL queries, and share your real-time progress on driving company priorities with your team, as well as outside the dev organization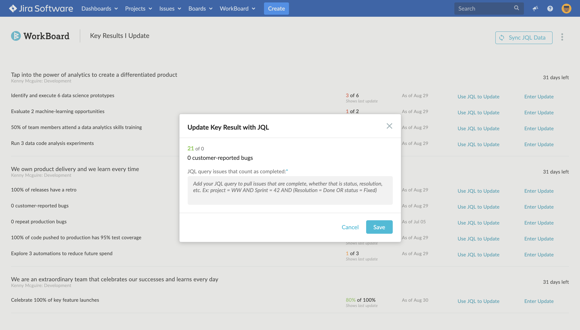 More details
WorkBoard is the leading OKR solution for enterprise. WorkBoard helps organizations align, localize and measure Objectives and Key Results (OKRs) across the business.With WorkBoard for Jira, teams can view and update their OKRs from within Jira.
Key features include:
Every team member can see their own OKRs and how their work contributes to their team and overall company priorities from within Jira
Automatically update key results in WorkBoard as you complete work in Jira -- provide instant transparency on progress to teams across the organization in WorkBoard
Use JQL to automatically update any key results you own
Getting started:
If you already have an Enterprise or Teams subscription account on WorkBoard, you can install the Jira plug-in right here!
If you do not already have a WorkBoard subscription account, be sure to sign-up for one at www.workboard.com before installing this plugin.
Resources
Learn about our customers
Privacy and security
Privacy policy
Atlassian's privacy policy is not applicable to the use of this app. Please refer to the privacy policy provided by this app's vendor.
Vendor privacy policy
Security
This app is not part of the Marketplace Bug Bounty program. Learn more
Gallery