ActivityTimeline: Resource Planning & Time Tracking
for Jira Cloud, Jira Server 7.6.0 - 8.18.1, Jira Data Center 7.6.0 - 8.18.1
and more
CLOUD FORTIFIED
Supported

Jira Service Management

Jira Software
Overview
Reviews
Pricing
Support
Versions
Installation
Team management & capacity Planner with Time tracking and Timeline per each team/resource, easy-to-use yet powerful Reports
Team & Project Visibility
ActivityTimeline shows Who is doing What and When it is going to be Done.
It gives a clear picture of team schedule, workload & workforce utilization
App automatically displays tasks on timeline based on Start/End dates.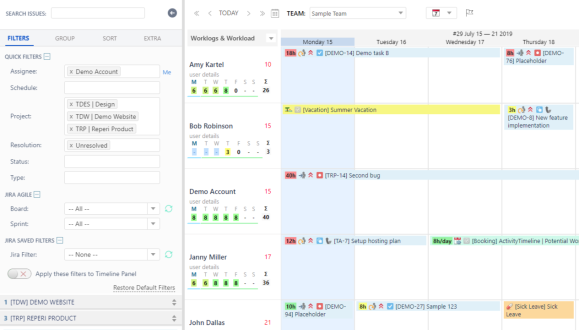 Planning & Time Tracking
Personal Workload Calendar for employees & remote contractors, where they can see what is planned, easily track their time and request vacations & days off.
Users can use timer to make the system calculate worked time.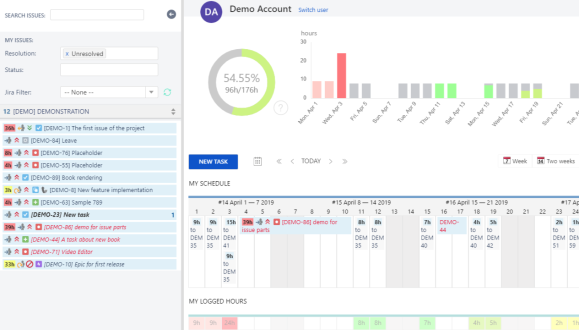 Timesheets & Reports
Track logged work of team members.
Get Planned vs Actual, Resource Utilization, Skill Availability and other reports.
Built-in integration with Tempo, Jira Advanced Roadmaps & Big Picture.
Export all reports to Excel.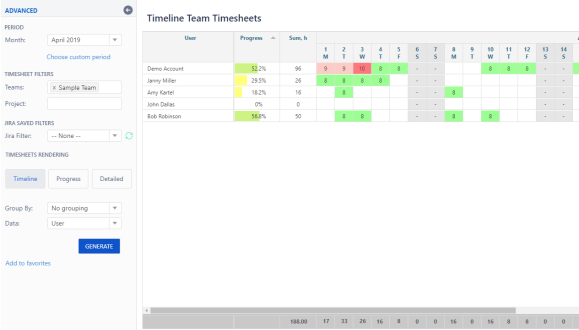 More details
ActivityTimeline for Jira is an add-on for resource planning and time tracking with timesheets, workload & availability reporting, personal workspace and more.
It allows to Plan/Work/Track/Report with ease.
Just a brief highlight of main features:
Planner Dashboard to plan issues and custom events
Get Timeline representation of your Jira issues per user and team
Automatic Workload and Availability calculation of people
Schedule your tasks easily through Drag'n'Drop/Resize feature
Manage Vacations, Days off, Sick leave, etc. along with your working activities
Allow employees to work through their personal workspace
Manage user skills and positions in bulk
Generate team timesheet reports and export them to Excel
Split your Jira issues between multiple people and multiple days
Plan vs Actual reports
Track progress of your projects
Etc.
Certification
CLOUD FORTIFIED
This app offers additional security, reliability, and support through:
Cloud security participation

Reliability checks

24hr support response time

and more.
View details
Privacy and security
Privacy policy
Atlassian's privacy policy is not applicable to the use of this app. Please refer to the privacy policy provided by this app's vendor.
Vendor privacy policy
Security
This app is part of the Marketplace Bug Bounty Program. Learn more
This partner has completed the Security Self-Assessment Program. Learn more
Integration Details
ActivityTimeline: Resource Planning & Time Tracking integrates with your Atlassian product. This remote service can:
Act on a user's behalf, even when the user is offline
Administer the host application
Administer Confluence spaces
Administer Jira projects
Gallery