Advanced Image Gallery & Slider for Confluence
for Confluence Server 6.6.16 - 7.12.4
and more
Overview
Reviews
Pricing
Support
Versions
Installation
Add Image Galleries and Sliders to Confluence pages and customize images directly on the page. Without the use of external tools
Drag and Drop: Easily select & upload your images
With the Advanced Image Gallery you can easily use Drag-and-Drop to upload and arrange multiple images in your confluence pages. After that, you can easily select the photos that you want to show in your gallery.
Customize & edit your images directly on the page
Use the XALT Advanced Image Gallery plugin to edit, crop and rotate each of your selected pictures with ease. Add copyright information and descriptions to be on the safe side and to illustrate the meaning of the images.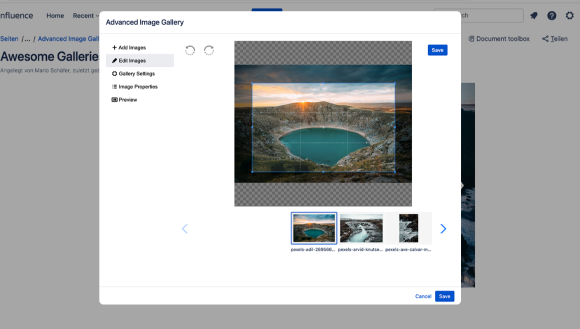 Choose your layout: Image Grids, Slider, Masonry
Choose from different layouts. Decide for yourself how your images should be displayed. Choose from a simple grid layout, a masonry or an Image slider. This way you can perfectly stage different image formats.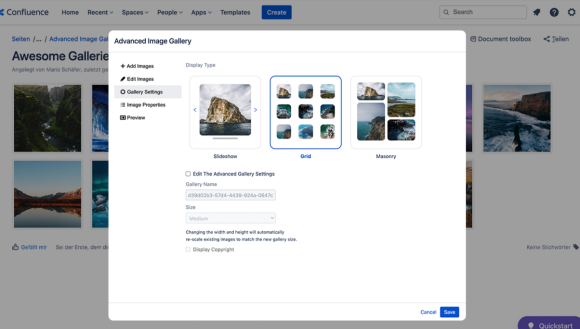 More details
Advanced Image Gallery Plugin helps you organize, select and edit different images within a page. The XALT plugin provides a new Macro for Confluence allowing to easily select, crop and edit images with settings like Display Type, Width & Height, Caption and Copyright.
Simple Drag-and-Drop
Easy to Use: Upload, Select and Paste
Drag-and-Drop Upload
Display only the images you want
Reduced load times through automatic scale down of your images in big instances.
Customize your images directly on the page
Edit your photos directly in Confluence, no Photoshop required
Crop: Cut your images directly in the user interface
Rotate: Turn and spin your photos
Zoom: Enlarge a portion of the image and remove unwanted picture elements
GDPR and DSGVO ready: Add important information to your images
Choose from different layouts
In the Advanced Image Gallery you can choose from different layouts.
Simple grid layouts
Masonry
Image slider
Privacy and security
Privacy policy
Atlassian's privacy policy is not applicable to the use of this app. Please refer to the privacy policy provided by this app's vendor.
Vendor privacy policy
Security
This app is not part of the Marketplace Bug Bounty program. Learn more
Gallery