Overview
Reviews
Support
Versions
Installation
Duplicate an Epic together with all Issues in Epic
Additional entry in More Menu of Epics
Beside the standard function you can duplicate Epic to copy not only the epic itself but also all issues within the epic.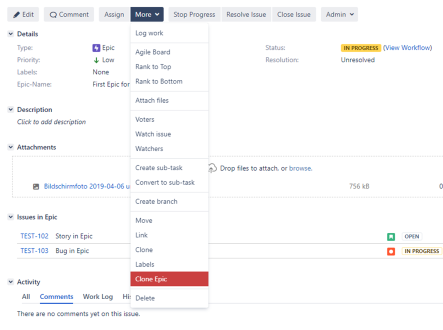 Rename your Epic
Similar to the standard function the summary for the new issue can be inserted on the appearing screen. All issues which are linked to the epic are listed on the screen.
Quickly navigate to new epic
As you know it from the standard functionality you can quickly navigate to the new issue by clicking on the link in the message which appears.
More details
Add a feature to your Jira Server instance which is very useful but not included in the standard Jira. Save a lot of time and work to recreate epics with issues individually with our duplicate epic solution.
Looking for a Data Center Version?
Please have a look at this page
End of Support for Duplicate Epic:
We decided to end support for Duplicate Epic on 30th of April 2021. There haven't been developed new features for quite some time now and with the announced end of support of Server products by Atlassian, we decided to end support for this Server only app as well. If you are looking for an alternative, please have a look at this page.
Privacy and security
Privacy policy
Atlassian's privacy policy is not applicable to the use of this app. Please refer to the privacy policy provided by this app's vendor.
Vendor privacy policy
Security
This app is not part of the Marketplace Bug Bounty program. Learn more