Overview
Reviews
Pricing
Support
Versions
Installation
Sum up the work logs of the tiniest child issues to the epic
Aggregate the logged time from the Epic's issues
If you are required to spend up to 5 days for an epic and you are not sure about one extra task to be included in the scope – check the epic remaining time. Be sure: not a tiniest sub-task logged time passed uncounted.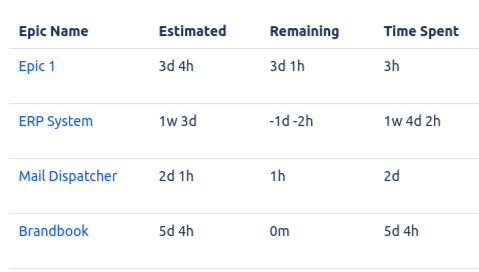 Browse Epic's remaining time within any issue
Should you hurry up or you have enough time for your task? See how much time the epic allows you to spend (there are no restrictions, it's just nice to know). Each work log entry will update this information.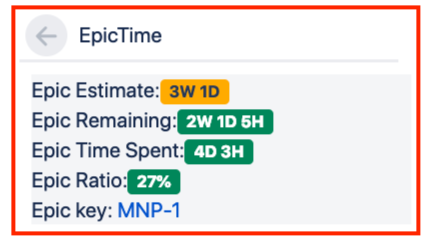 Find the issues with the estimated time overrun
Find easily the epics with estimated time overrun: generate the EpicTime report and sort the issues by the Ratio or by Remaining column. Go to an issue right from the report to see the details and handle the problem.
More details
EpicTime for Jira app built by Teamlead, Atlassian Gold Solution Partner.
The application provides the following custom fields:
Epic Estimate
Epic Time Spent
Epic Remaining
Epic Ratio
Epic Key
These fields to be displayed in any issue type but act a bit variously herewith:
In an issue of the Epic type, the app aggregates time logged in the Epic itself and in all its child issues to the Epic Time Spent field and auto-populate the Epic Remaining and Epic Ratio (percentage of the spent time to the estimated time) fields in accordance.
In an issue of another type, the fields display information from the parent Epic.
Just include your issue to an Epic to get the information from this Epic and also to make the issue's logged time included to the Epic's spent time.
Our team is ready to customize EpicTime for Jira in accordance with your requirements.
Ready to get closer with EpicTime for Jira - request online presentation with our expert.
Privacy and security
Privacy policy
Atlassian's privacy policy is not applicable to the use of this app. Please refer to the privacy policy provided by this app's vendor.
Vendor privacy policy
Security
This app is not part of the Marketplace Bug Bounty program. Learn more
This partner has completed the Security Self-Assessment Program. Learn more
Integration Details
EpicTime for Jira - Sum of Worklogs integrates with your Atlassian product. This remote service can:
Administer the host application
Administer Confluence spaces
Administer Jira projects
Delete data from the host application