Kloudio
for Jira Cloud, Jira Server 7.12.1 - 7.12.3, Jira Cloud, Jira Server 7.12.1 - 7.12.3
and more
Overview
Reviews
Pricing
Support
Versions
Installation
Access Jira projects, issues and users directly from spreadsheets
Define reports across Jira, Oracle etc
You can now define reports across data sources - Databases (Oracle, AWS Redshift etc), Cloud Applications (Jira, Salesforce.com, Netsuite etc) & Web Services (Google adwords, FB ads) on your own for your ad-hoc analysis.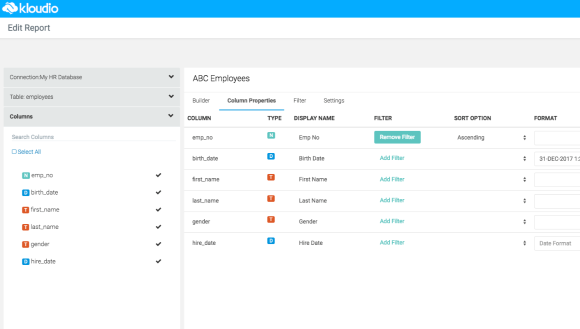 Auto Refresh Jira data onto spreadsheets
Define Jira reports & auto-refresh data every hour, day, week or month as needed into your spreadsheets (Excel or Google Sheets) for detailed analysis. The best part is No Coding Needed or technical assistance required!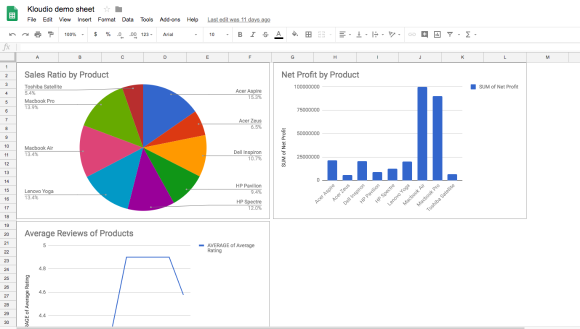 Update or Upload data from spreadsheets
Use Kloudio templates to upload thousands of records from spreadsheets to any database. See any pre-defined validation errors in data inline. Save time and Be More Productive.
More details
Kloudio is a self-service data analytics platform that enables financial analysts, product managers, marketing managers and other middle managers to directly access and combine data from disparate data sources, as noted below, with popular end-user tools such as Microsoft Excel, Google Sheets, Smartsheet, Airtable, Slack and other tools without the need for specific coding skills.
Data sources:
1) Databases: Oracle, MySQL, Postgres, AWS Redshift, MS SQL etc.
2) Cloud applications: Salesforce.com, Workday, Oracle Cloud, NetSuite etc.
3) Web services: LinkedIn, Google Adwords, Bing Ads, Amazon Ads, Facebook Ads, Jira etc.
With six teams in Netflix saving up to 16,000 man-hours annually and more than 2,200 registered business users from 90 countries using Kloudio within a year of launch, we are on a mission to democratize data access.
Privacy and security
Privacy policy
Atlassian's privacy policy is not applicable to the use of this app. Please refer to the privacy policy provided by this app's vendor.
Vendor privacy policy
Security
This app is not part of the Marketplace Bug Bounty program. Learn more
This partner has not completed the Security Self-Assessment Program. Learn more