Power BI Connector Pro for Jira
for Jira Cloud, Jira Server 7.0.0 - 8.18.1, Jira Data Center 7.0.0 - 8.18.1
and more
Supported

Jira Service Management
Overview
Reviews
Pricing
Support
Versions
Installation
Connect Jira to Power BI for dynamic business intelligence and reporting
Connect Jira to Power BI
Import Jira data into Power BI to create reports, track trends, and analyze insights.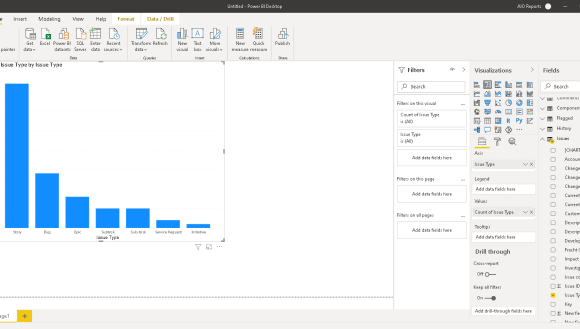 Same URL, multiple data sets
Use the same connector URL with different JQL statements and different fields to create several data sets.
Supports Agile, custom fields, and time reporting
Supports Agile reporting including sprints and epics, time reporting using worklog data, and custom fields.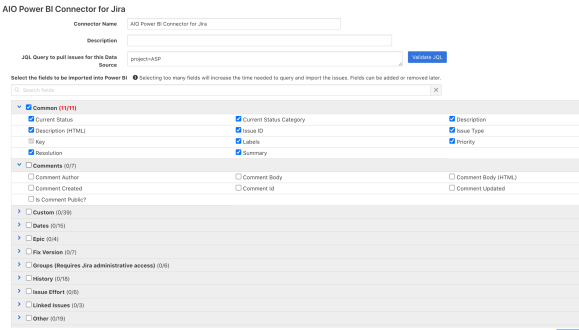 More details
As of October 2020, this app (formerly AIO Power BI Connector for Jira) is now a Bob Swift Atlassian Apps (an Appfire company) product.
Highlights:
Import Jira data into Microsoft's Power BI for powerful reporting features
Create unlimited data sets using JQL statements (each data set can contain different fields)
Simple app setup with a secure, fast, and reliable connection
Select from a range of Jira fields including Agile, Jira Service Management (formerly JSD), custom, time reporting, and history fields
Setup scheduled refreshes
Provides OData feed to import into compatible software (like Microsoft Excel)
Merge with other data sources (Excel, database, etc.)
Integrates with Tempo Timesheets
Import sprint metrics (sprint velocity, commitment, etc.)
Appfire helps great makers build what's next. Our growing portfolio of apps empowers teams worldwide with workflow automation, business intelligence, and administration at scale.
Privacy and security
Privacy policy
Atlassian's privacy policy is not applicable to the use of this app. Please refer to the privacy policy provided by this app's vendor.
Vendor privacy policy
Security
This app is not part of the Marketplace Bug Bounty program. Learn more
This partner has completed the Security Self-Assessment Program. Learn more
Integration Details
Power BI Connector Pro for Jira integrates with your Atlassian product. This remote service can:
Act on a user's behalf, even when the user is offline
Administer the host application
Administer Confluence spaces
Administer Jira projects