Overview
Reviews
Support
Versions
Installation
Deliver features faster with deep idea-to-production insight into your development process
Single view across Jira, code repos & CI/CD tools
Join the dots across your toolset. Track your team's delivery process from ideation to deployment, to identify bottlenecks and deliver quality software faster and more often.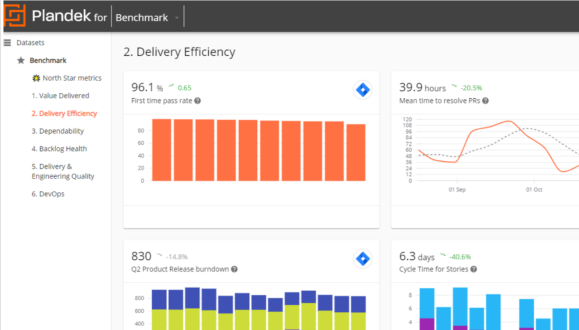 Turbo-charge velocity, quality & dependability
Replace anecdotal evidence with hard data in standups and retros. Use Plandek's unique end-to-end view - with customisable dashboards & alerts to turbo-charge your team's delivery velocity, quality and predictability.
Get started for free
Get access to the most powerful end-to-end Agile delivery metrics and analytics platform for free for up to 2 Jira Boards, 5 code repos and CI/CD tools. Upgrade to Plandek Enterprise whenever suits.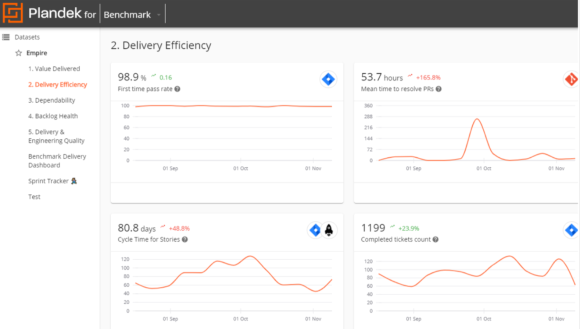 More details
End-to-end delivery and engineering metrics, analytics and alerts to improve your delivery effectiveness. Loved by teams and relied on by managers!
The power of Plandek's enterprise-level metrics, analytics, and reporting is now available to all teams and organisations.
Surface critical Agile, delivery, Flow, Scrum, engineering, DORA and DevOps metrics in customisable dashboards with powerful alerts, drill-down and trend analysis.
Super-easy online sign-up and FREE for up to 2 Jira Boards.
Integrates with Jira, Bitbucket (and other code repos); and Bamboo (and other CI/CD tools) for end-to-end insight
Become data-driven in stand-ups and retros to drive your team's continuous improvement.
identify bottlenecks and friction in your delivery process to rapidly increase your velocity, quality and predictability.
Privacy and security
Privacy policy
Atlassian's privacy policy is not applicable to the use of this app. Please refer to the privacy policy provided by this app's vendor.
Vendor privacy policy
Security
This app is not part of the Marketplace Bug Bounty program. Learn more
This partner has completed the Security Self-Assessment Program. Learn more