Code Owners for Bitbucket
for Bitbucket Server 5.2.0 - 7.15.0, Bitbucket Data Center 5.2.0 - 7.15.0
and more
Overview
Reviews
Pricing
Support
Versions
Installation
Improve your pull requests by auto-assigning reviewers and enforce reviews with Code Owners based merge checks
Adds relevant reviewers automatically
Adds Code Owners as reviewers to new pull requests automatically, but still gives the author flexibility to adapt, e.g. for work-in-progress pull requests. It also supports reviewer groups for easier maintenance.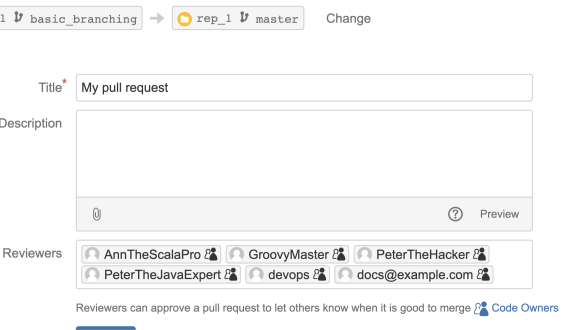 Prevent merges without reviews by Code Owners
Adds merge checks based on pull request approvals by Code Owners. Checks can be configured to be based on all Code Owners of a pull request, or per Code Owners group.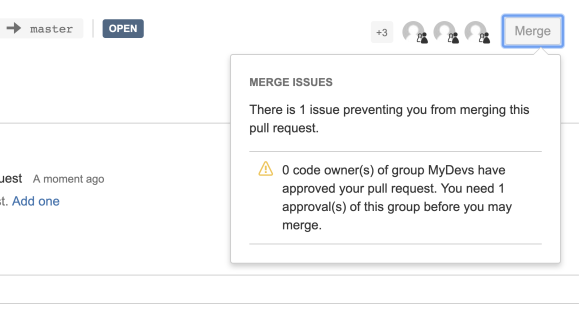 Simple, versioned, rule based config in plain text
To assign Code Owners for a specific code area, put a file called CODEOWNERS in your repository with file patterns similar to .gitignore. And for monorepos, it supports multiple CODEOWNERS files within subdirectories.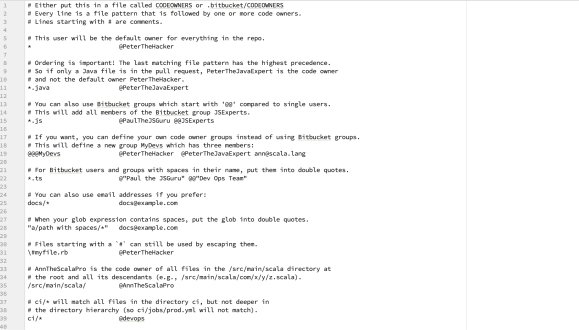 More details
Code reviews are a valuable tool to share know-how and prevent bugs in successful projects. But finding the right reviewers can be a hassle.
Code Owners are engineers who:
are experts in a specific code area
can give valuable feedback to other team members
are interested that the code quality stays great
This app allows to:
configure which groups or devs are Code Owners for each code area
use this configuration to automatically assign reviewers
enforce approvals Code Owners (Optional)
Configuration is simple, file-based, and low-maintenance:
CODEOWNERS file (convention over configuration)
pattern matching based on file names, similar to .gitignore
ready to be versioned, eg. for auditing
Here's an example. All React.js components should be reviewed by the team "ReactGurus":
/src/components/**/*.js @@ReactGurus
Please check our getting started guide for more information.
Want to know more? Schedule a live demo with us!
More apps you'll like: Pull Request Analytics for Bitbucket 👌🏼
Privacy and security
Privacy policy
Atlassian's privacy policy is not applicable to the use of this app. Please refer to the privacy policy provided by this app's vendor.
Vendor privacy policy
Security
This app is not part of the Marketplace Bug Bounty program. Learn more
Gallery

The app offers separate merge checks for code owners. Here you can see how to configure them.