💎 Feature Bundle for Jira Service Management
for Jira Cloud, Jira Server 8.0.0 - 8.18.1, Jira Data Center 8.0.0 - 8.18.1
and more
Supported

Jira Service Management
Overview
Reviews
Pricing
Support
Versions
Installation
Extension hub for Jira Service Management projects
Self-service approach 💪
The Edit Request allows making changes by customers in their requests on Customer Portal. Save their and your service agents time. Replace commenting on a ticket with the possibility of making changes themselves.
All info at your fingertips 🤙
Give customers helpful information about their tickets. Grant access to see assignee, created/updated/resolved dates, and Resolution. Moreover, important announcements can be displayed on every page on Customer Portal.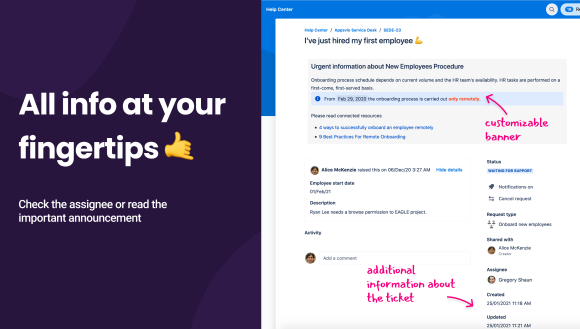 Request workflow 🔍
Customers sometimes don't know on what stage their case is. The Request Steps explains where the issue is in the process. It's an easy way to simplify the issue's workflow explanation.
More details
It's a new extension for Jira Service Desk which adds features, such as:
👉 Edit Request - make changes to the request JSDCLOUD-93
👉 Request Steps - track progress of requests
👉 Request Details View - show some fields on Customer Portal:
assignee JSDCLOUD-328
created, updated, and resolved date
Resolution
👉 Dynamic announcements - a new approach to announcement banners for customers. Create a message that reaches everyone. Options for banners:
Choose the best place to display the announcement (Help Center, Customer Portals, Request Forms, Request Details View, Profile, Requests)
Schedule: define the time (all the time, on certain days, if the conditions are met)
Restrict: limit visibility for selected groups (if the conditions are met which bases on languages, organizations, Jira groups, project roles, email domains)
Content in Rich Text Editor or HTML
Do you want to know more? Please contact us via our Customer Portal or book a demo session via Calendly. 🖥
Privacy and security
Privacy policy
Atlassian's privacy policy is not applicable to the use of this app. Please refer to the privacy policy provided by this app's vendor.
Vendor privacy policy
Security
This app is not part of the Marketplace Bug Bounty program. Learn more
This partner has completed the Security Self-Assessment Program. Learn more
Integration Details
💎 Feature Bundle for Jira Service Management integrates with your Atlassian product. This remote service can:
View email addresses of users
Administer the host application
Administer Confluence spaces
Administer Jira projects
Gallery