Git Integration for Jira Software
for Jira Cloud
Supported

Jira Service Management
Overview
Reviews
Pricing
Support
Versions
Installation
#1 Jira Git Integration for Jira to Github, Jira to Gitlab, Jira to Bitbucket, and more
Jira and Git with Github, Gitlab, and Bitbucket
Every commit is now at your fingertips inside Jira. Stay in the loop with your development team on every issue. Even review code right inside Jira.
View Source Code with Git Jira integration
Bring source code right into Jira. With git diffs you'll see all the code changes associated with each Jira issue.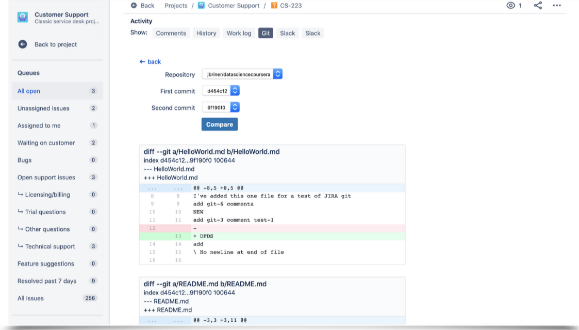 Jira Git plugin create Pull Requests and Branches
Create pull requests and branches from inside Jira. With our repo browser see all of your commit history easily.
More details
Top Atlassian Vendor 🎉 with 3000+ customers including Amazon, Uber, Genentech to name a few. "Liking the simplicity and power of this app for git." - Larry A.
Features
Easy to setup in only a few minutes...

Automatically syncs repos in real-time
View Git in context with Jira to understand development status

View and Create inside Jira...

Branches
Pull requests
Tags

Smart Commands inside Git Commits...

Link to Jira Issue Ids
Record time log
Assign
Transition Jira issues

Large repo support
Real-time sync of new commits
See all commit details inside Jira, including source code diffs
Supports popular cloud git apps:

GitHub
Github Enterprise
Gitlab
Gitlab Enterprise
Bitbucket
Gittea
AWS Code Commit
Microsoft Azure
Private self-hosted
Why Bitband apps?
Trusted by 3000+ customers in 75 countries
Premium support directly from development team
Built Atlassian apps for over 10 years
Always innovating by delivering new features
👉 Try for FREE 👈
Privacy and security
Privacy policy
Atlassian's privacy policy is not applicable to the use of this app. Please refer to the privacy policy provided by this app's vendor.
Vendor privacy policy
Security
This app is not part of the Marketplace Bug Bounty program. Learn more
This partner has completed the Security Self-Assessment Program. Learn more
Integration Details
Git Integration for Jira Software integrates with your Atlassian product. This remote service can:
Act on a user's behalf, even when the user is offline
Administer the host application
Administer Jira projects
Delete data from the host application
Gallery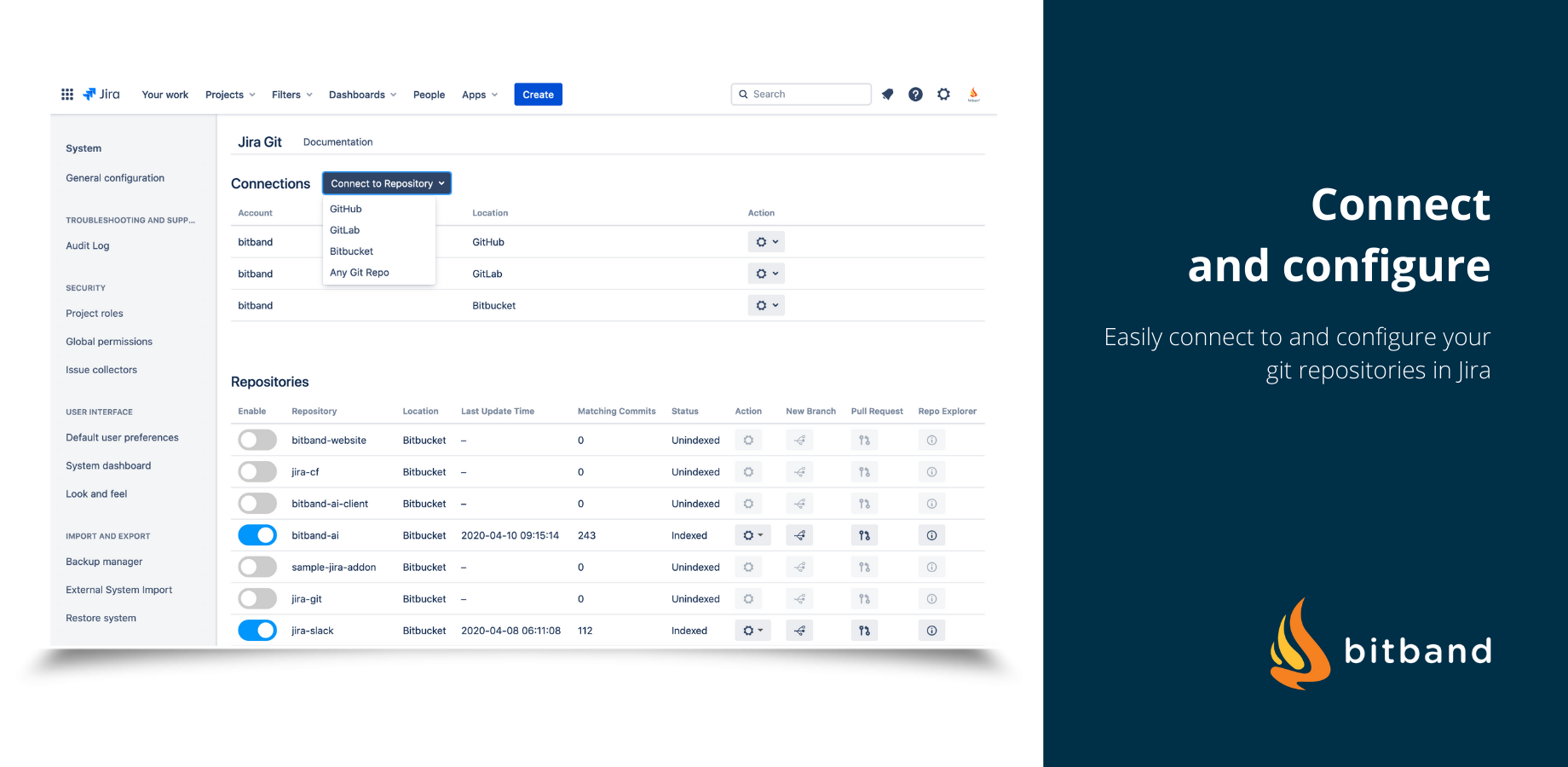 Easily connect to GitHub, Bitbucket, or Gitlab. Enabled/Disable repos, add new pull requests, add new branches, and explore the repo all from inside Jira.