Approvals for Confluence
for Confluence Cloud, Confluence Server 6.8.0 - 7.12.3, Confluence Data Center 6.8.0 - 7.12.3
and more
Cloud Security Participant
Supported

Cloud Migration Assistance
Overview
Reviews
Pricing
Support
Versions
Installation
Integrate a simple yet powerful document review and approval tool into Confluence pages
Send Pages or Sections for Approval
At the click of a button you can send pages and sections for review and approval.
There's no complicated setup required - once installed, you just access the page, select your reviewers and off you go!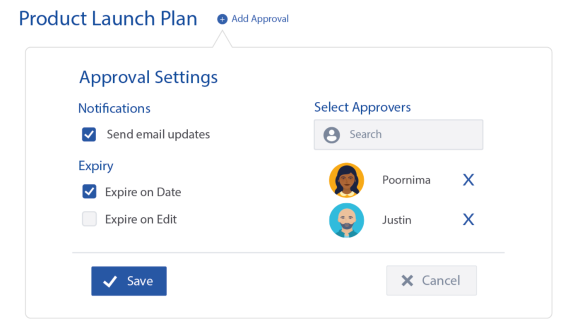 View the status of your Approvals
It's easy to view all of your pending or completed approvals using the built-in search screen.
Filter your search by status or space to find exactly what you are looking for.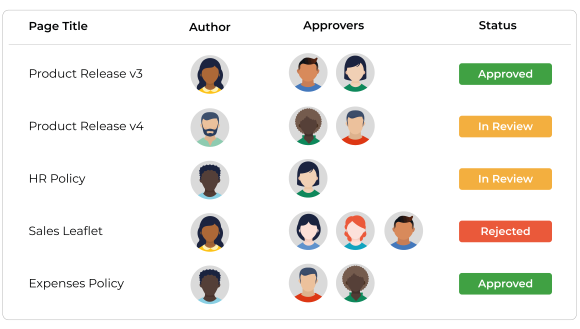 Keep Informed with Email Notifications
Use notifications to keep page owners and reviewers informed when content is waiting for their action.
There are email notifications available to help you track the progress of approvals.
More details
Approvals for Confluence makes it easy to get pages and documents approved directly within Confluence. Take your content from draft to an approved document ready for sharing using this powerful tool.
Would you like a demonstration?
Features
✅ Flexible Approvals – manage your content approvals with precision using page or section approvals
📊 Built-in Search – view the status of pending approvals in one screen
🗓️ Approval Expiration – use automated expirations to reset an approval if an edit occurs or a date is reached
🕺 Review Teams – save time and create the approval teams you need to review content
📨 In-App or Email notifications - keep your teams informed when content is waiting for their review
Need a more customizable approval process with features such as automated page restrictions and publishing? Check out Workflows for Confluence Cloud and compare the features of these two products here.
Privacy and security
Privacy policy
Atlassian's privacy policy is not applicable to the use of this app. Please refer to the privacy policy provided by this app's vendor.
Vendor privacy policy
Security
This app is part of the Marketplace Bug Bounty Program. Learn more
This partner has completed the Security Self-Assessment Program. Learn more
Integration Details
Approvals for Confluence integrates with your Atlassian product. This remote service can:
View email addresses of users
Act on a user's behalf, even when the user is offline
Administer the host application
Administer Confluence spaces
Gallery