Subscriptions for Jira - Filter Manager
for Jira Server 8.0.0 - 8.18.1, Jira Data Center 8.0.0 - 8.18.1
and more
Supported

Jira Service Management
Overview
Reviews
Pricing
Support
Versions
Installation
Manage all users' filters and subscriptions in the single place
Users can create an infinite number of filters and subscriptions. Furthermore, the subscription can be sent frequently and include a group of people who can not unsubscribe. The administrators may never know about the presence of such a huge number of subscriptions.
Now your administrators can view and manage the filters and subscriptions of all Jira users in one place.
As for the regular user, the app provides them the ability to manage their own filters and subscriptions in one place in a convenient way.
Key highlights:
Browse all filters and subscriptions on one dashboard
Manage the private filters of other users
Manage and delete subscriptions created by any user
Change the filter owner
Find broken filters
Find potentially duplicate filters
Search for filters by a piece of JQL-query
Our team is ready to assist you with Subscriptions for Jira settings in accordance with your requirements.
Privacy and security
Privacy policy
Atlassian's privacy policy is not applicable to the use of this app. Please refer to the privacy policy provided by this app's vendor.
Vendor privacy policy
Security
This app is not part of the Marketplace Bug Bounty program. Learn more
Gallery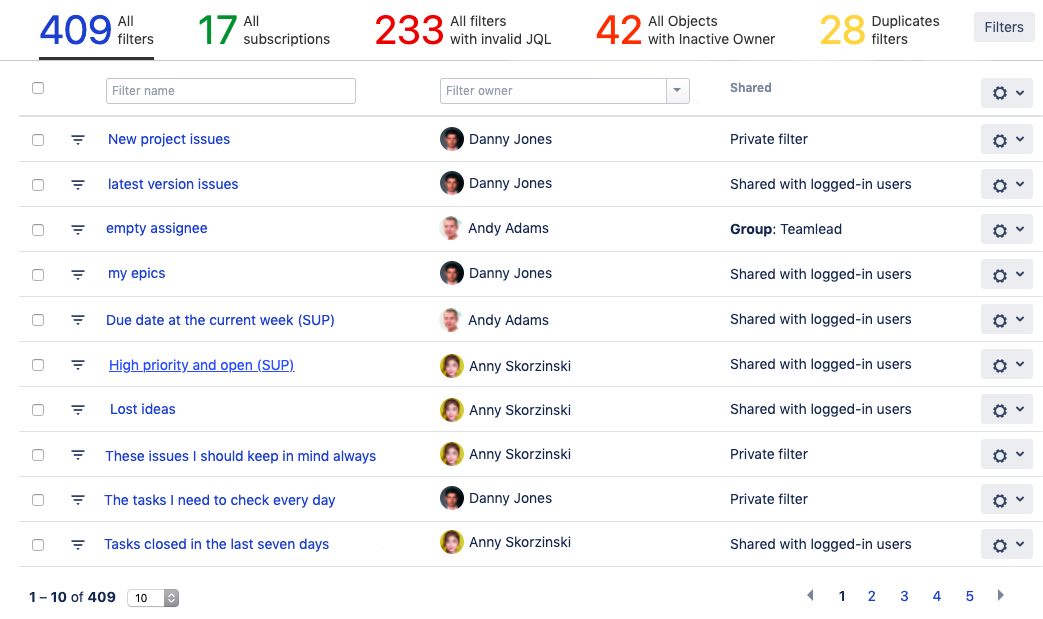 All Filters tab (Jira Admin view)