Zephyr Scale - Test Management for Jira
for Jira Cloud, Jira Server 8.0.0 - 8.18.1, Jira Data Center 8.0.0 - 8.18.1
and more
Cloud Security Participant
Supported

Cloud Migration Assistance
Overview
Reviews
Pricing
Support
Versions
Installation
A scalable, performant test management solution inside Jira with advanced test planning, reporting, and reusability features
Scalable, cross-project test management
Growing test libraries require a smarter approach to test management. Remove bottlenecks and reduce duplication by using parameters, test data, and shared steps.
360-degree traceability & cross-project reporting
Easily track requirements across test cases, test cycles, test plans, and execution results. See your testing outcomes with dynamic, broad-ranging traceability and test-case coverage statistics via built-in reports.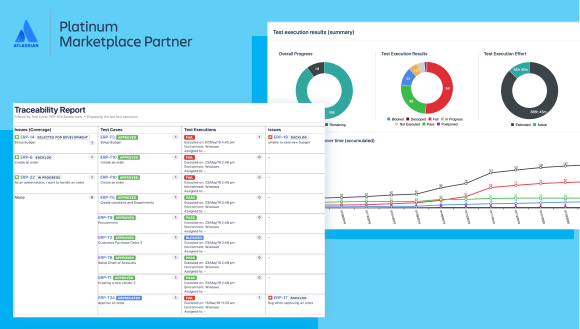 Test automation & DevOps ready
Scale up your testing with BDD, CI/CD and automation integration using our free REST API. Publish automated test-execution results from Jenkins, Bamboo, and other tools.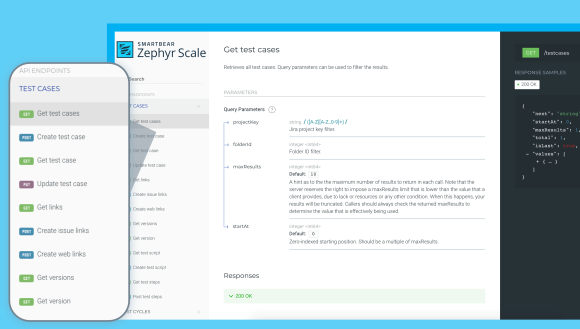 More details
🔎 Explore all SmartBear Zephyr Solutions
👉 Why Zephyr Scale?
'Self explanatory, easy to use & immediately usable. Time-saving due to the huge & optimal reports' Fouad T - ⭐️⭐️⭐️⭐️
💡 Manage & Reuse Tests at Scale
Organize large test case libraries using folders & test suites
Reuse test cases across projects with parameters & test data
Create test cycles to track test executions
📊 Advanced Reporting & Auditing
🔌 Integrate across multiple tools & frameworks
🛠 Support
M-F, 9am-5pm BST excluding UK holidays
🌐 Available in English, German, Spanish, Portuguese & Italian
Privacy and security
Privacy policy
Atlassian's privacy policy is not applicable to the use of this app. Please refer to the privacy policy provided by this app's vendor.
Vendor privacy policy
Security
This app is part of the Marketplace Bug Bounty Program. Learn more
This partner has completed the Security Self-Assessment Program. Learn more
Integration Details
Zephyr Scale - Test Management for Jira integrates with your Atlassian product. This remote service can:
Act on a user's behalf, even when the user is offline
Administer the host application
Administer Confluence spaces
Administer Jira projects
Gallery
Enhanced test management right inside Jira with full traceability requirements for smarter, faster QA and Testing at scale