Timeline
for Jira Server 8.0.0 - 8.18.1, Jira Data Center 8.0.0 - 8.18.1
and more
Supported

Jira Service Management
Overview
Reviews
Pricing
Support
Versions
Installation
Visualize issues on a simple timeline. Schedule them on a Gantt-like chart. Group issues by any Jira field. Easily reverse changes
Gantt like chart for issue visualization&planning
Timeline presents the issues on intuitive Gantt-like chart.
Changes are stored online and can be reviewed before saving. Undo not wanted changes.
Use any date or worklog for timeline dates. Group with any Jira field.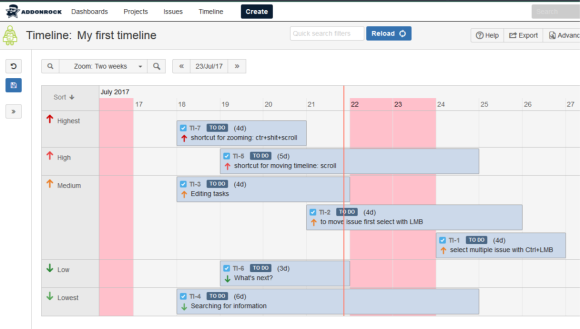 Manage your timelines, assign permissions
Advanced permission model based on 3 roles: admin, edit, view. Assign any user or group for each timeline role.
Easily manage your timelines: find by name or author, sort, assign permissions or delete.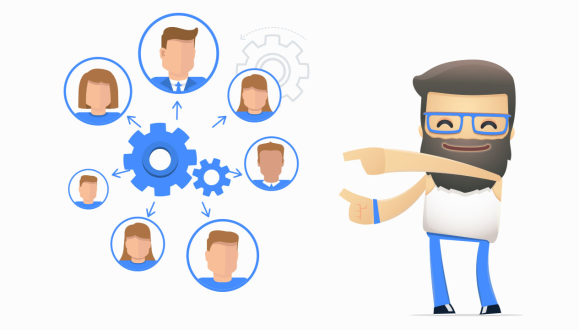 Most value for best price
Timeline will work out of the box with default config but can be customized at will.
Support any Jira field for grouping: user, date, number, epic, radio, select, version.
Lots of small features: sorting, snapping, etc.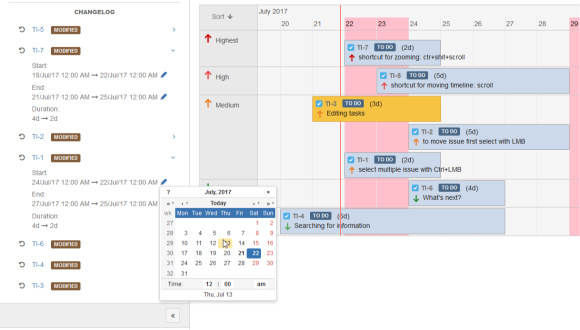 More details
Essential information and links:
Present Jira issues on timelines. Edit your timeline with intuitive drag and drop interface. Plan issues, check their status, group and filter them in a single view populated by JQL query or filter.
Add a star to your issue timelines creation with our Timeline add-on!
Privacy and security
Privacy policy
Atlassian's privacy policy is not applicable to the use of this app. Please refer to the privacy policy provided by this app's vendor.
Vendor privacy policy
Security
This app is not part of the Marketplace Bug Bounty program. Learn more
Gallery