Delegated Project Admin Pro for Jira
for Jira Server 8.0.0 - 8.19.1, Jira Data Center 8.0.0 - 8.19.1
and more
Supported

Jira Service Management
Overview
Reviews
Pricing
Support
Versions
Installation
Save time and reduce bottlenecks by empowering trusted users to safely and easily adjust their own project settings
Confidently scale Jira with smart delegation
With two purpose-built delegation modes, maintain full control over who can change what and can easily revert back to previous versions at any time. Administrators can view detailed reports on each delegated project.
Empower trusted users to adjust project settings
Granular permission settings allow admins to select which users or groups can modify their projects' screens, fields, notifications, permissions, workflows, or issue types, even without full admin rights.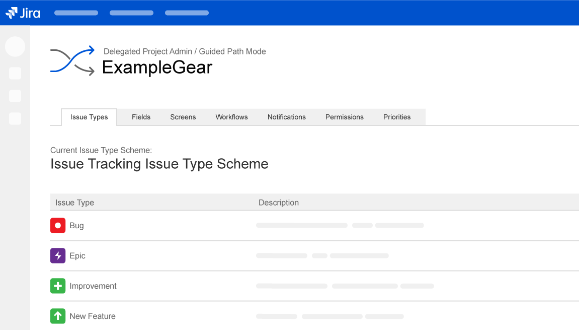 Maintain consistency with Project Groups
When several projects share the same settings, simply add them to a Project Group and any changes made to one project's settings will be automatically applied to all projects in the group.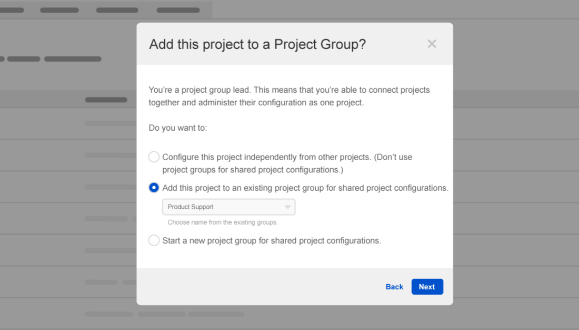 More details
Highlights:
Empower specific users to adjust their own project settings
Choose from 2 delegation modes:

Guided Path — trusted users can switch between predefined project schemes
Self-Service — trusted users can adjust more granular project settings

Track changes and revert back with one click
Supports permission, notification, workflow, issue type, issue type screen, priority, and field configuration schemes
Modify settings for multiple projects at once with Project Groups
Temporarily block redundant background processes with Locks
View and export detailed change history reports on each delegated project
Check out the Data Center version of this app — tested for performance, reliability, and scalability
Explore all of Wittified's "Admin at Scale" apps.
Appfire helps great makers build what's next. Our growing portfolio of apps empowers teams worldwide with workflow automation, business intelligence, and administration at scale.
Try Delegated Project Admin Pro today!
Privacy and security
Privacy policy
Atlassian's privacy policy is not applicable to the use of this app. Please refer to the privacy policy provided by this app's vendor.
Vendor privacy policy
Security
This app is not part of the Marketplace Bug Bounty program. Learn more
Gallery