Issue Matrix
for Jira Cloud, Jira Server 8.0.0 - 8.18.1, Jira Data Center 8.0.0 - 8.18.1
and more
Supported

Jira Service Management

Jira Software
Overview
Reviews
Pricing
Support
Versions
Installation
Drive your Jira visualization to a new level with powerful features for Sub-Tasks, Linked Issues, Stories in Epics
Enhanced Organization & Custom Visualizations
Better visualize your sub-tasks, linked issues, or issues in Epic by adding extra fields filtered by your needs. Improve your organization by tracking the progress of all completed, currently running, or to-do issues.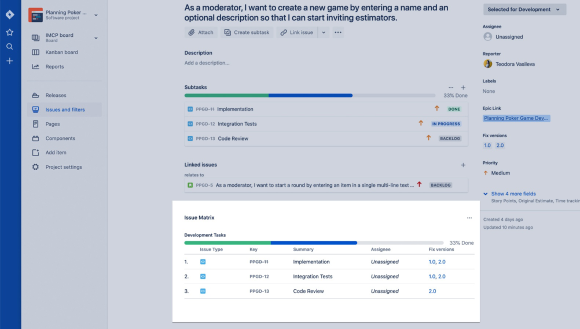 Save Hundreds of Hours per Jira Team
Get greater visibility into additional information and fields about each sub-task, linked issue, or Issues in Epics without opening it individually and save hours of pointless clicking.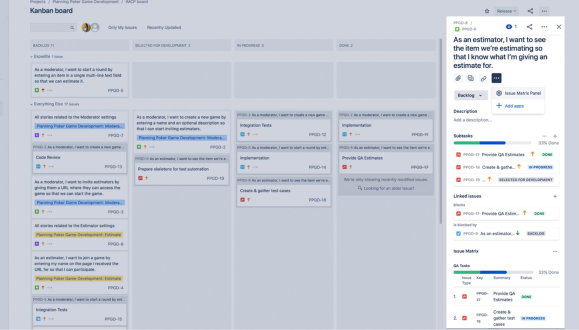 High Usability of Sub-tasks, Linked Issues & More
Both system and custom fields can be visualized as a column of sub-tasks, linked issues, or Stories in Epics, without the need to open them individually. Issues with the same semantics can be grouped in a separate panel.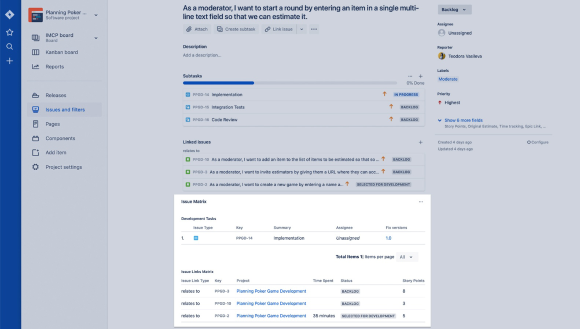 More details
Greater Sub-Tasks Details:
It gives you additional information and fields about each sub-task without the need to open it individually. Sub-tasks can be broken down by type. You can also add user-friendly and easy-to-configure panel names. It helps teams to visualize better the tasks they are responsible for.
Effortless & Error-Free Creation of Related Issues:
Easily create relations between objects in an error-free way. You can create issues in Epic or Sub-task in issue - the choice is yours.
Better Visibility of Issues in Epics:
Improves the visibility of the User Stories and other issues linked to Epics by adding information about story points, teams, x versions, etc.
Need help? Ask us for a Demo or Support.
Appfire helps great makers build what's next. Our growing portfolio of apps empowers teams worldwide with workflow automation, business intelligence, and administration at scale.
Privacy and security
Privacy policy
Atlassian's privacy policy is not applicable to the use of this app. Please refer to the privacy policy provided by this app's vendor.
Vendor privacy policy
Security
This app is not part of the Marketplace Bug Bounty program. Learn more
This partner has completed the Security Self-Assessment Program. Learn more
Integration Details
Issue Matrix integrates with your Atlassian product. This remote service can:
Delete data from the host application
Write data to the host application
Read data from the host application
Gallery