Vivid Trace for Jira - Links & Dependencies
for Jira Server 8.0.0 - 8.19.1, Jira Data Center 8.0.0 - 8.19.1
and more
Supported

Jira Service Management

Jira Software
Overview
Reviews
Pricing
Support
Versions
Installation
Visualize your issue links from end to end -- and shed light on dependencies and blockers as simple, natural graphs
See full issue dependencies and causes of blockage
Visualize multi-level issue links and issue dependency graphs and surface the most pertinent information. Total visibility over any project or task structure. Monitor chains of events. Spot problems early.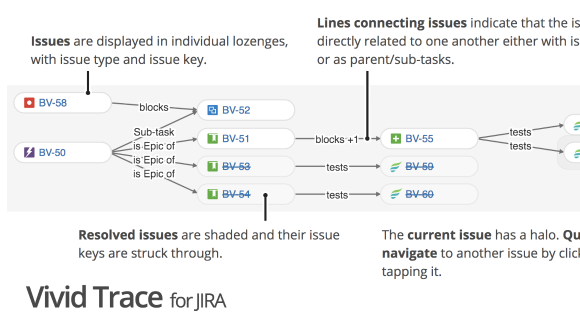 Trace requirements to implementations and tests
Trace and report on linked project artifacts to help you verify that the end product is based on the requirements and meets customer demands.
Visualize Jira dependency graphs in Confluence
Embed Jira issue dependency graphs in requirements, testing plans, and other documents managed in Confluence with Vivid Trace for Confluence.
More details
Built by Vivid.
Visualize issues and their relations directly within Jira, accommodating any project structure, and surface only the most pertinent information.
Use the Trace Studio to produce customized issue relation graphs from the results of arbitrary JQL queries.
Discover and report on linked work artifacts such as requirements, implementations, and tests to help you demonstrate that the end product is based on the requirements.
Objectively understand the impact of changes, to contain threats to your budget and schedule.
Help prove compliance with contracts and industry regulations, increasing customer satisfaction while reducing legal exposure.
Add-on supports teams around the world with 20 languages.
Plus: Embed saved traces in Confluence documents with Vivid Trace for Confluence.
Privacy and security
Privacy policy
Atlassian's privacy policy is not applicable to the use of this app. Please refer to the privacy policy provided by this app's vendor.
Vendor privacy policy
Security
This app is not part of the Marketplace Bug Bounty program. Learn more
Gallery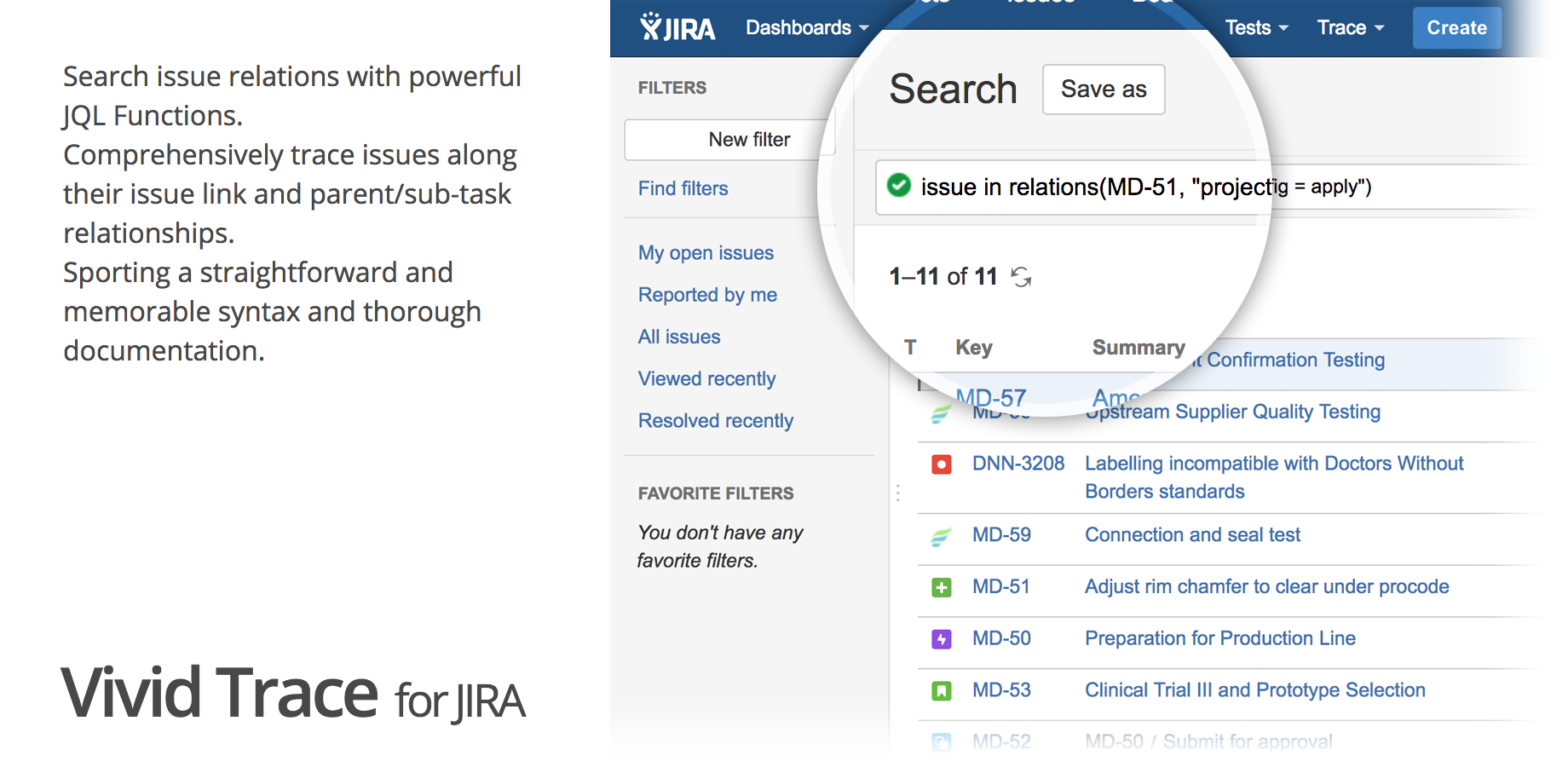 Highly-configurable JQL functions for comprehensively tracing issues along their issue link relationships and their parent/sub-task relationships, a capability that Jira lacks off-the-shelf.