Elements Spreadsheet for Confluence
for Confluence Cloud, Confluence Server 6.13.0 - 7.13.0, Confluence Data Center 6.13.0 - 7.13.0
and more
Cloud Security Participant
Supported

Cloud Migration Assistance
Overview
Reviews
Pricing
Support
Versions
Installation
The spreadsheet editor built for Confluence. Simpler than Excel. Your tables are seamlessly displayed in Confluence pages
Use formulas, filters, and drop-down lists
Build dynamic tables and run calculations on your data entries with 400+ formulas provided by Elements Spreadsheet. You can also set multiple filters and drop-down lists to organize your data and ensure consistency.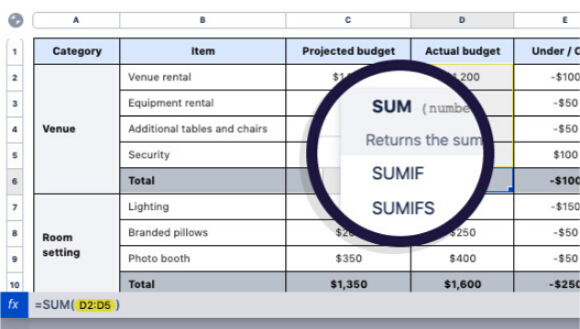 Display dynamic tables seamlessly in Confluence
Share and collaborate on your tables by seamlessly integrating them into Confluence pages. Elements Spreadsheet embraces the Confluence tables look & feel - you can even use Date Pickers and @mentions in your tables.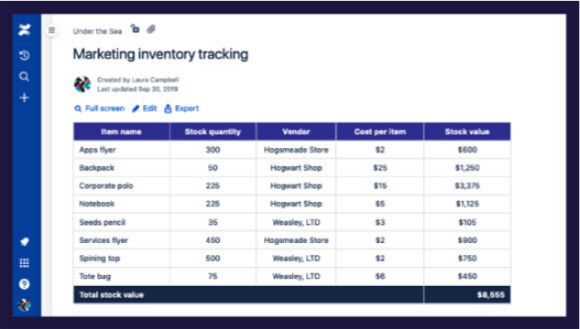 Import from and export to Excel
Don't build your dynamic tables from scratch in Confluence. Spreadsheets allows you to import your existing Excel files and keeps their formatting. You can also export your files back to Excel.
More details
With Elements Spreadsheet, you can create dynamic tables in Confluence pages with formulas, filters, and drop-down lists for your data.
Elements Spreadsheet for Confluence offers the core functionalities of Excel essential to project management, budgeting and reporting.
Highlighted features:
Embed a spreadsheet on Confluence pages
Over 400 formulas, including Vlookup, Countif and Concatenate
Custom colors
Concurrent editing notifications
Cross-reference between sheets in formulas
Visible in PDF exports of Confluence pages
Visit our website for further insights.
----------
Elements Spreadsheet is an app published by Elements, editors of Connect (formerly nFeed), Checklist, and Copy & Sync.
Privacy and security
Privacy policy
Atlassian's privacy policy is not applicable to the use of this app. Please refer to the privacy policy provided by this app's vendor.
Vendor privacy policy
Security
This app is part of the Marketplace Bug Bounty Program. Learn more
This partner has completed the Security Self-Assessment Program. Learn more
Integration Details
Elements Spreadsheet for Confluence integrates with your Atlassian product. This remote service can:
Write data to the host application
Read data from the host application
Gallery
Use data across multiple tabs for formulas like Vlookup.