Markdown Macro for Confluence
for Confluence Cloud, Confluence Server 6.13.0 - 7.12.3, Confluence Data Center 6.13.0 - 7.12.3
and more
Cloud Security Participant
Supported

Cloud Migration Assistance
Overview
Reviews
Pricing
Support
Versions
Installation
Insert Markdown into Confluence. Use inline markdown text or a URL in the macro to display the content on your page
Markdown Support for Confluence
Render markdown on your Confluence page by adding Markdown Macro and providing the content you need. Available for Server and Data Center.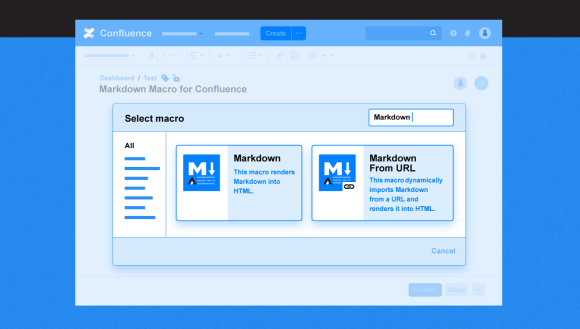 Markdown from inline text and public URL
Insert inline text or public URL (including GitHub and Bitbucket) into the macro body to include the content on the Confluence page. Supports headers, tables, images, code blocks, and more.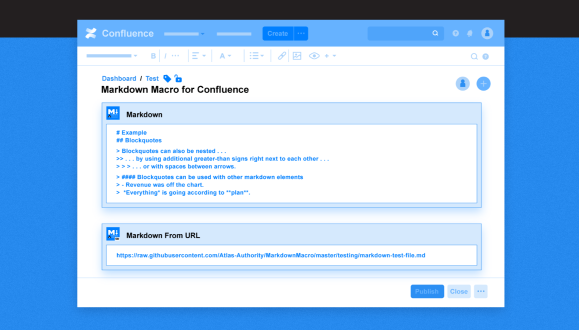 Secure admin configurations
Administrators can Whitelist domains and IP addresses to control the links users insert in a macro body.
More details
Extend Confluence functionality with Markdown Macro.
Insert Markdown content into a macro body;
Display Markdown text on your Confluence page;
Render Markdown from the inline text (tables, pictures, code snippets, links, etc.);
Render Markdown from public URLs (including GitHub and Bitbucket);
Enable Whitelist (domains and IP addresses) for Markdown From URL Macro;
To avoid protect customer security, this macro does NOT support inline HTML.
Privacy and security
Privacy policy
Atlassian's privacy policy is not applicable to the use of this app. Please refer to the privacy policy provided by this app's vendor.
Vendor privacy policy
Security
This app is part of the Marketplace Bug Bounty Program. Learn more
This partner has completed the Security Self-Assessment Program. Learn more
Integration Details
Markdown Macro for Confluence integrates with your Atlassian product. This remote service can:
Write data to the host application
Read data from the host application