Supported

Jira Service Management
Overview
Reviews
Pricing
Support
Versions
Installation
Tool Integration and Data Exchange Platform
Integrate Jira and Confluence with ALM tools (1)
Bugzilla | CA Agile (Rally) | ContourTrac | HP Quality Center (ALM) | IBM Rational Change, ClearCase, ClearQuest, Doors, Doors Next, Quality Manager, Rhapsody, System Architect, Team Concert (RTC) ...
Integrate Jira and Confluence with ALM tools (2)
Intland Codebeamer | Mantis | Microsoft Team Foundation Server (TFS), Sharepoint, Project | Perforce | | PTC Integrity | Siemens (Polarion) | Sparx Enterprise Architect | Tricentis Tosca ...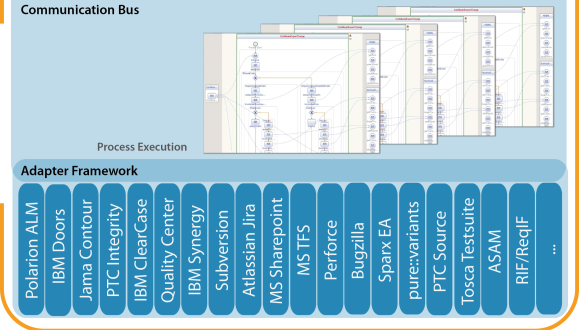 Exchange data via portals and (standard) formats
BMW GIS | Daimler DanTe | Porsche PFIFF | Volkswagen VW KPMWeb, KPM WS V2 (GSB) | Generic FTP | ASAM AE Issue | DITA (Darwin Information Typing Architecture) | Microsoft Excel | ReqIF (Requirements Interchange Format)...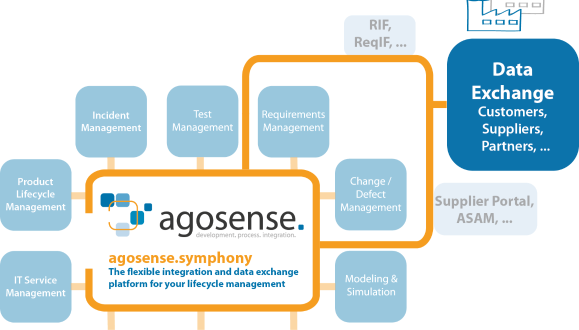 More details
The Tool Integration and Data Exchange Platform agosense.symphony connects the different disciplines and domains of product development (ALM, PLM, and ITSM) by using the concept of model based tool integration. To realize this, agosense offers a variety adapters for the integration of common development tools, ALM platforms and business applications and continues developing. Furthermore agosense.symphony also enables an automated external data exchange across your whole B2B environment.
Flexible custom integration: agosense.symphony connects your tools and data exactly according to your needs
Save money: fair and transparent, purely server-based licensing model - regardless of the number of users, projects or tool instances.
Graphically model – without a single line of code or scripting required – the process and business rules controlling the information flow and dependencies between tools and data
Privacy and security
Privacy policy
Atlassian's privacy policy is not applicable to the use of this app. Please refer to the privacy policy provided by this app's vendor.
Vendor privacy policy
Security
This app is not part of the Marketplace Bug Bounty program. Learn more
This partner has not completed the Security Self-Assessment Program. Learn more
Gallery